MN Nice Homes: Historic home with views of Mississippi, Chippewa rivers for sale in southeastern MN
The property is on 36 acres and is currently zoned as a bed and breakfast.
A historic 1870s farm house that overlooks the Upper Mississippi River National Wildlife and Fish Refuge in Wabasha is for sale, and it has views for days. 
The two-bedroom, three-bathroom home at 70680 213th Ave. sits on 36 acres overlooking the Mississippi and Chippewa rivers, as well as Lake Pepin. 
"You can see for miles and miles and also see Wisconsin from here," listing agent Jen Busch of LandProz/Country Living Real Estate told BMTN. "At the look-out point and in the backyard, the views are indescribable, they are peaceful and are very inspiring for meditation, writing and artistry." 
The property, which is about an hour and a half from the Twin Cities, is on the market for $779,900.
Busch said her favorite feature of the home are the views, saying it'd be a "joy" to do dishes at the sink and look out over "the bodies of water and towns." 
Take a look for yourself: 
70680 213th Ave. in Wabasha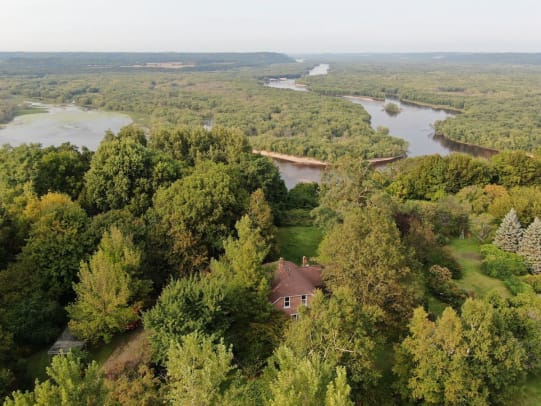 The property features groomed trails, several species of trees, lush gardens, praririe grass and an overlook point, as well as a stone barn foundation, two outbuildings and a garage. 
"All the diverse vegetation on the 36 acres make this property unique with endless things to explore and do," Busch said. "All kinds of exotic trees, many fruit tees, plants and flowers grow there that normally you don't see in all of southeast Minnesota."
Not only that, but wildlife flock to the property, Busch said, calling it "truly a magical place."
The house itself has the original brick, providing character to the completely restored home. 
Busch said the property could be a wedding venue or continue as a bed and breakfast (it's zoned as that currently), noting it formerly ran as the American Eagle Bluff Bed and Breakfast. She said it would also be a great primary or secondary home for someone who seeks "untouched nature" or a "peaceful and relazing piece of heaven."
Nearby are the cities of Wabasha and Reeds Landing, which are popular tourist areas home to the National Eagle Center, Lake Pepin, the Mississippi River, as well as hiking, hopping and fishing, Busch said, noting the private property is just a 7 minute-drive to a grocery store and "modern conveniences."
You can view the full listing here.