Is this the most idyllic house for sale in America right now?
For $2 million you get a huge home – and your own island.
This is the home that truly lets you get away from it all.
We're not kidding, because the $1.995 million price tag for this on the market property includes its own island in Lake Vermilion.
Eagle Island in northern reaches of Minnesota went on sale last year and is arguably one of the most idyllic property opportunities in the country.
It's attracted attention this past week from The Daily Mail, which included it in this feature about "the most lust-worthy islands you can buy."
Accessed via a five-minute boat ride from Shamrock Landing, northwest of Tower, Minnesota (marina membership is included in the sale price), the 4,570-square-foot home was built in 2016 and comes with 5.5 acres of private island.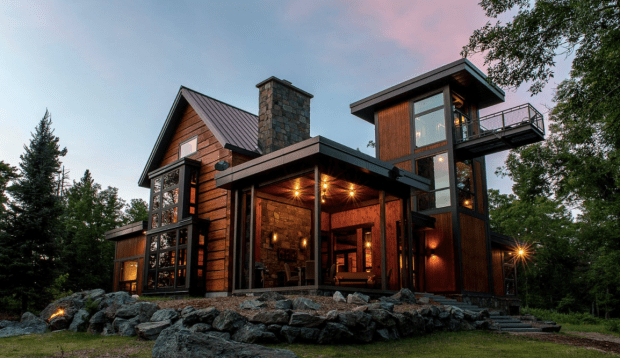 It takes its name from the nesting bald eagle pairs that call the island home along with other indigenous wildlife on stunning Lake Vermilion, at the edge of the Boundary Waters.
Along with the island, $2 million buys you a four-level home made from Montana spruce, complete with a vintage-look elevator, observation deck (which offers viewing of the eagles), and a 325-foot drilled well.
Related:

– 'Hogwarts House' is back on the market in Minneapolis.
The living space features a 2-story (!) wood-burning fireplace, made from Ely greenstone ledge rock, with a fully-equipped, hickory cabinet kitchen and soapstone countertops.
If you're interested in buying the place, firstly, we envy you, but also you can find out more information and pictures of the property here.
Otherwise you can contact broker James Ertz of North Branch-based DF & Company at 651-242-5814.