Long into the night, Minnesotans celebrate the life and music of Prince
As the clock ticked forward, past midnight and into the early hours of the morning, the music continued playing and the people kept dancing, all beneath a deep purple glow that illuminated the room.
Thousands of Minnesotans poured into the streets outside First Avenue Thursday night, then continued the party inside, to mourn, remember and celebrate Prince – a musician that defined the Minneapolis sound on his way to becoming a worldwide icon of cool.
Prince Rogers Nelson died Thursday morning in his Paisley Park home at the age of 57. Within hours, fans had gathered outside the Chanhassen complex to pay their respects to the Minnesota native.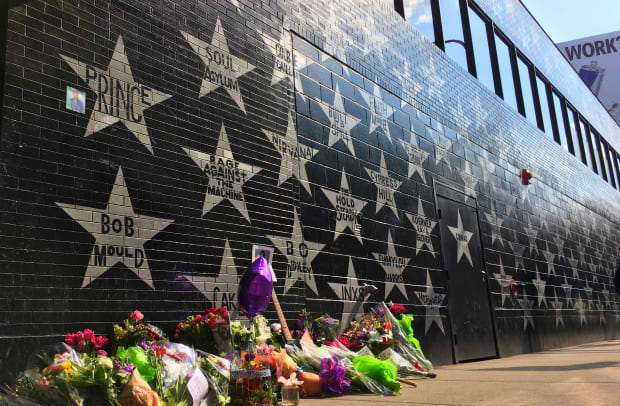 And outside of First Avenue, the downtown Minneapolis club whose history is inexorably tied to the Purple One, the scene grew throughout the day from flowers and balloons beneath his iconic star on the wall, to a concert and celebration that shut down the street.
Block party
First Avenue became the center of the music world Thursday night.
The city shut down 7th Street outside of First Avenue for a special Prince tribute, with The Current hosting a Prince Memorial Street Party – bringing thousands of fans to mourn the day's loss while celebrating the man's life.
This was the scene from above:
https://www.facebook.com/abcnews/videos/vb.86680728811/10154344374218812/?type=2&theater
And here's a little bit from on the ground:
https://www.facebook.com/bradleyj75/videos/vb.679468139/10154172235573140/?type=2&theater
https://www.instagram.com/p/BEfEIHbJCgf/?taken-by=didyoumeantwinkle
The event featured local musician – DJ Shannon Blowtorch, Lizzo, Chastity Brown, P.O.S, Sarah White, Tiny Deaths, PaviElle, and more – playing music and doing covers of Prince classics.
https://twitter.com/EamonWhalen/status/723362840409563137
https://twitter.com/solace/status/723347534396039171
And out east in Brooklyn, famed director Spike Lee held his own block party, The Cut reports. Here's a video from that:
https://twitter.com/RebeccaRams/status/723355352746614784
Dance party goes into the night
The crown outside of First Avenue moved inside for an 11 p.m. free dance party the venue promised would be an all-nighter, ending at 7 a.m.
People packed the floor for hours, as Prince tunes played over the speakers.
https://www.facebook.com/TheCurrent/videos/vb.23036132656/10153402569607657/?type=2&theater
Video and photos show the scene in the club.
https://twitter.com/amatos12/status/723395213511663617
https://twitter.com/danii_cal/status/723472491587342336
https://www.facebook.com/TheCurrent/videos/vb.23036132656/10153402492732657/?type=2&theater
https://www.instagram.com/p/BEfs9dBFTN2
https://www.instagram.com/p/BEfwjyarqEC
While the crowd had thinned out as 7 a.m. neared, there were still dozens of people inside First Avenue.
https://www.instagram.com/p/BEfx5ihFTEG
This embed is invalid
https://twitter.com/kas_kathryn/status/723473492155445248