Minnesota man builds a giant snowman for his kids
Eric Fobbe used all the snow in his front yard to build it.
Sometimes you just have to embrace the snow, like Eric Fobbe of Buffalo, Minnesota did on Sunday. 
The 13-foot snowman Fobbe built for his four kids turned into a fun surprise for his entire neighborhood, and now the entire state.
Fobbe told BMTN that he figured he might as well build a giant snowman since his yard in Buffalo was buried in a foot-plus of snow by the powerful weekend blizzard. 
"I used all the snow in my front yard," Fobbe said. "I got the pile as high as I could with the snow blower, and then I took the snow blower, filled the back of my truck up with the snow, then I backed up to it and just scooped it shovel by shovel.
When he got it as high as he could, he started sculpting it from the top down, using a rake to eliminate lumps, just like he does as a concrete worker for PCiRoads, a general contractor out of St. Michael. 
It took him about seven hours to complete, from about 8 a.m. to 3 p.m., he said.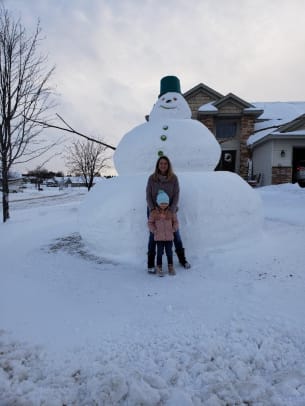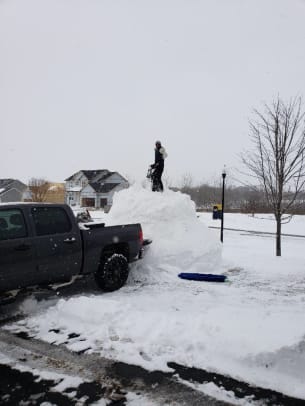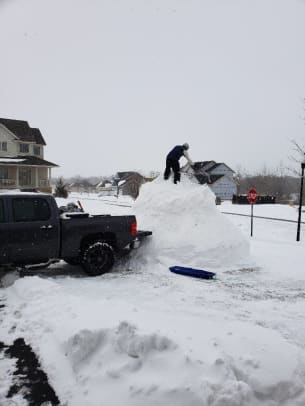 Fobbe is known in the neighborhood for turning winter into a wonderland for kids. 
"There's a hill in the back of our house," he said, "I'll bring skidsteers (skid-steer loader) from work home and I'll build the whole neighborhood a big snow hill." 
He says it reminds him of his childhood, when his dad would build sliding hills for him.
This wasn't his first snowman, but it's certainly his biggest yet. 
According to the Guinness Book of World Records, the largest snowman ever built was actually a snow woman, and she stood 122 feet, 1 inch tall in Bethel, Maine back in 2008.