The best Twin Cities convenience stores for late-night snacking
Here are 4 prime destinations for grab-and-go goodness at any hour.
Convenience stores are arguably the true face of how America eats.
Next to fast food, a convenience store is the one reliable friend you have in the late, late, dark of night, or on an unfamiliar, foreboding stretch of road. The comforts of sunflower seeds, caffeine in infinite forms, and Takis can get you far in this world.
They're called convenience stores for very good reason.
See Also: The 10 best late-night gas station munchies, ranked
And while they all share the above commonalities, they are not all created equal. Sometimes bypassing the big chains and going the literal extra mile is a worthy pursuit.
Here are three of our favorite independent spots (and one chain that actually gets it) for extinguishing gotta-have-it late night cravings, the convenient way.
Kwik Trip (Various locations)
This Wisconsin-based company has set up a model of one part convenience store, one part grocery, one part gas station storefronts all over Minnesota. The bright and palatial surrounds do not relegate your choices to junk food. Actual fresh produce can be had here. You'll find ground beef, and sacs of pre-made soup to cut into and dump in your home stock pot. You could make a respectable, reasonably healthy meal for the family, if you so please. You can get a cart.
But it's midnight, and that is not why you've come. Instead, check out the magnificent full wall of coffee products, making the place every bit a coffee shop minus the barista: iced, cappuccino, peppermint mocha! The whole of the drinks section is an unnatural wonder, with day-glow Icees, and this curiosity: the F'real milkshake machine, that allows one to grab, say, a frozen Cake Batter milkshake, shove it under an old-fashioned style blender, and have a "f'real" malt experience, minus the malt shop. Also: if your aim is to keep the party going, Kwik Trip sells $5 bundles of firewood, live bait, and 40-oz Grain Belts.
Mr. Santana (Dinkytown, Minneapolis)
Keeping University of Minnesota students in torpedo-sized gyros for decades, this East Bank institution might have the most beautiful facade of any convenience store, ever. Hand painted signage with filagree detail, one could easily mistake the place for a boutique or vintage bookstore.
Inside, it's at once a typical convenience store, but then altogether not. All of the staples are here, but then turn to the handwritten sign for quick-cooked hot deli items like a triple XL double burger, with double gyro meat, and double pepper jack cheese. Not enough decadence? Rent a hookah and smoke it on the sidewalk patio. Really.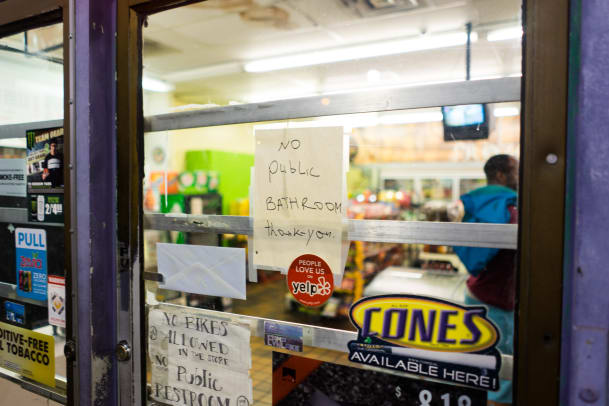 Loon Grocery (Whittier, Minneapolis)
The Loon Grocery has been a staple of Minneapolis' Lyndale Avenue for so long, it's impossible to imagine the landscape without this constant hub of activity. The place has even been immortalized by local artists. 
Though it closes a little early (9 p.m.) for true late night shenanigans, it's still an indie can't-miss thanks to the cheap, extensive, Arab-American hot food menu. From kebabs to spinach pie to baklava and shrimp baskets, this place deserves a place on your stomach's radar all times of day. If you've gotta have it past last call, think ahead and leave it in the car. The chicken gyro will only grow more tempting with a little time and marination. Also: the full collection of the elusive Rap Snacks (I'm very partial to Lil Boosie's Louisiana Heat).
Don't miss the trippy hand-painted signage above the coolers advertising "Pizza," "Dairy," "Meats," and "Juice" with Alice In Wonderland, circus animals and nymphs, making your late night crave that much weirder.
It's a wonder more street food concepts and pop-ups don't pair with convenience stores. Such is the case at Sunny's Market, a typical Northeast Minneapolis neighborhood grocery that has partnered with Bark & The Bite, a barbecue food truck in search of a storefront.
They found it at Sunny's. Along with the Bimbo bread and the Sunny D and the toilet paper, get burned ends, sliced brisket, and myriad other smoked meat faves and sides. Sunny's is located in the neighborhood that used to be home to the infamous "Deuce Deuce" strip joint, (soon to be Hola Arepa's Hai Hai).
This neighborhood enjoys a crossroads of old and new, and you can see that charming intersection at Sunny's, especially if you go late night for the people watching.
Pro Tip: Northeast's classic neighborhood hang Grumpy's Bar is around the corner for enjoying cool Grain Belts before or after some hot 'Q.
Ready to snack? Search for Kwik Trip locations near your neighborhood, and here's a map of the other three stores:
Mecca Bos is a Twin Cities-based food writer. She has an upcoming podcast called Snax Everywhere. Find her on Instagram, Facebook, and Twitter.