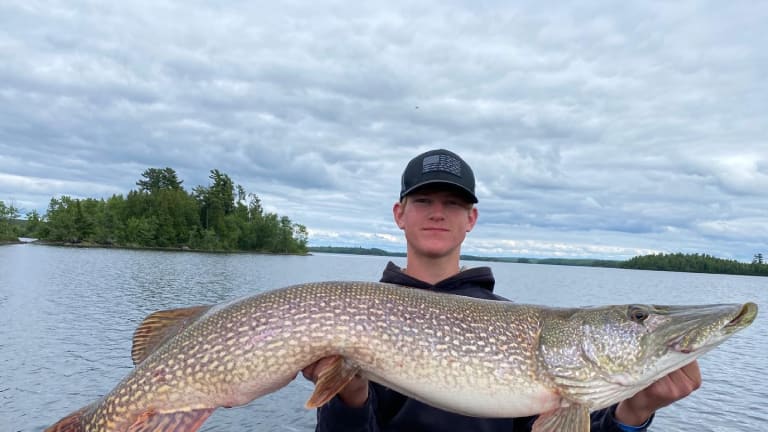 15-year-old sets new Minnesota catch-and-release record for northern pike
The teenager called it "an experience of a lifetime."
There is officially a new Minnesota record for catch-and-release northern pike.
The Minnesota Department of Natural Resources (DNR) said it certified the 46 1/4-inch pike, caught June 19 on Basswood Lake, as the new state record. It was caught by Brecken Kobylecky, a 15-year-old from Geneva, Illinois. You can see the teen holding the massive fish in the photo above.
His fish beat the previous state record for catch-and-release northern pike by 1 inch.
He was out that day with an Ely-based fishing guide, trolling for a pike with just a few minutes remaining in their final day, when he got a bite. The teen told the DNR it was "barely hooked," saying the group could hardly land it" because of its size and weight.
They managed to get it in the boat, then snapped a few photos before releasing it.
"The whole experience went by in a flash but it was an experience of a lifetime I'll never forget," Kobylecky told the DNR.
A Wisconsin angler also tied the Minnesota catch-and-release record for muskie this year.
Todd Kirby of Hudson brought in a 57 1/4-inch muskie July 23 while out on Lake Vermilion. That matches the state record, set in 2019 on the same lake. 
Kirby had just set a personal best earlier in the day, getting a 48-inch fish in the net. But around 10:30 p.m., he said he heard a large "thud" his his line when his bait was about 15 yards out from the boat.
"I compared it to reeling in a large moving 'log' and after a few dark splashes, she was in the net. Everything just happened so fast!" Kirby told the DNR. He also credited John Gavic and Will Gavic, who were with him at the time, for the successful "team effort."
You can find the state's official records here on the DNR's website.