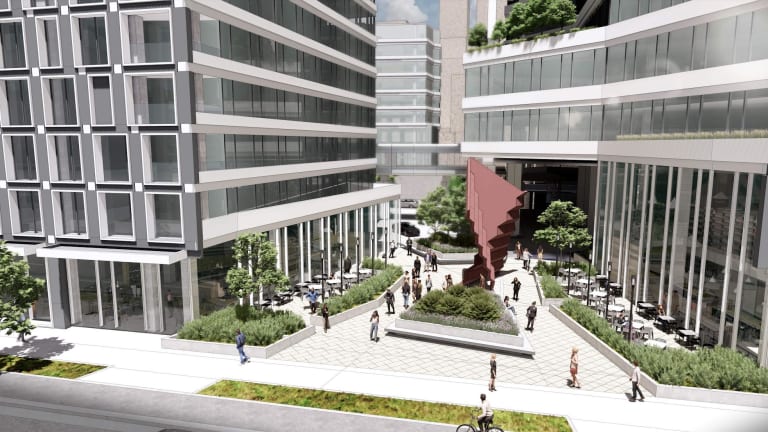 A new dining district is on the horizon for downtown Minneapolis
An entire city block is set for big changes.
As Sherman Associates prepares a $400 million redevelopment of the former Wells Fargo operations center in downtown Minneapolis, the local developer says creating a vibrant food and beverage district is top of its mind. 
The Minneapolis-based Sherman Associates this month announced they've teamed up with local restaurateur and executive chef David Fhima to bring the vision to life. 
The development, known as Harmonia, will span a full city block on the southwest corner of South Washington Avenue and 3rd Avenue South. 
Sherman Associates acquired the site in August with plans to construct three buildings, including a mixed-use high-rise that'll soar at least 25 stories. 
A smaller high-rise building and a ten-story mid-rise building are also planned for the development, with apartments described as mixed-income and market-rate. 
Fhima, executive chef to the Minnesota Timberwolves and Minnesota Lynx, is the founder of Fhima's Minneapolis and Mother Dough Bakery. His upcoming venture, Maison Margaux, is set to open this spring in the former Ribnick Furs building in the North Loop.
According to Sherman Associates, the Fhima family will lead the design and recruitment efforts for the redevelopment's retail and dining spaces. 
Their vision is to create a vibrant food and beverage district that'll serve future residents of the development and attract visitors from nearby neighborhoods, such as the Mill District, the North Loop and the Central Business District. 
At least one flagship restaurant will be owned and operated by the Fhima family, according to a news release. 
Construction on the project is expected to begin this fall and wrap-up in 2027.