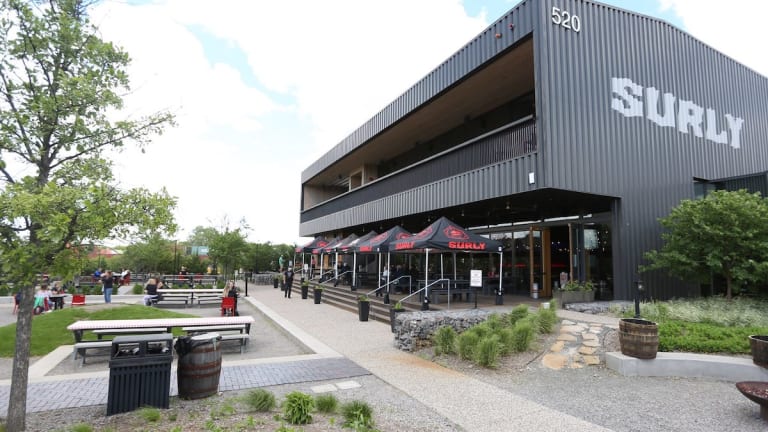 After 10 months, Surly's pizza restaurant will reopen next week
The upstairs pizza joint closed last November ahead of the winter lockdown.
Surly Brewing's pizza restaurant is reopening next week. 
Surly Pizza Upstairs, located on the upper level of the Minneapolis beer hall, will reopen on Sept. 10 to serve its New Haven-style pizza. The restaurant has been closed since November. 
Chef Joe Stoesz will lead the kitchen, adding some new pizzas and other dishes to the menu (many of the classics will still be available), the Pioneer Press says.
Surly shut down its destination brewery (everything except beer production) last November, citing the COVID-19 pandemic. The closure came before Gov. Tim Walz announced the winter lockdown and a short time after its employees announced plans to unionize.
It has slowly been reopening this summer. The beer hall began pouring pints on June 1 and the kitchen reopened in July. With the reopening of Surly Pizza Upstairs next week, the only things left that haven't started up again are brewery tours and private events, the brewery's website shows.
Stu Neuman of Surly told Bring Me The News on Friday he expects tours to resume in 2022. 
Surly Pizza Upstairs, which opened its doors in 2018, will be open daily starting at 4 p.m. Mondays-Thursdays and starting at noon on Fridays-Sundays. 
Surly's staff is wearing masks and "strongly encourages" patrons who are dining indoors to wear a mask when they're not eating or drinking, regardless of their vaccination status, the brewery's website says.