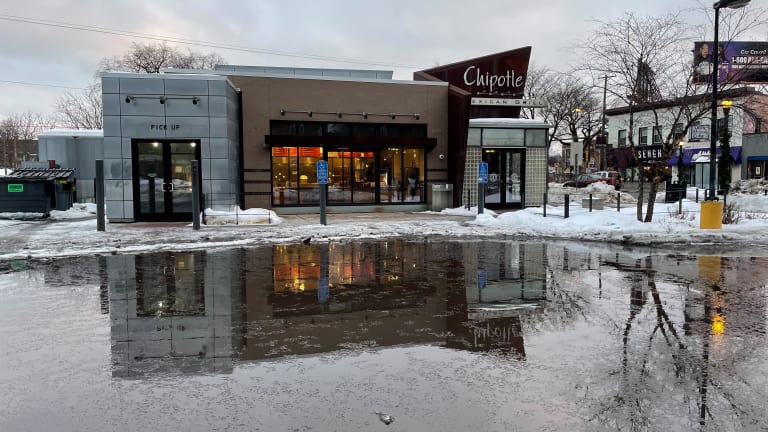 After recent melt, Lake Chipotle is becoming the Chipotle Sea
Minneapolis' viral landmark is back with a vengeance.
If you're planning to grab a Chipotle in Uptown this week, better bring some waders.
Yes, Lake Chipotle is back with a vengeance after several days of above-average temperatures melted some of the Twin Cities' considerable snowpack.
On Wednesday morning it was pretty much impossible to park in any of the disability parking spaces without exiting your vehicle into ankle-deep liquid, while anyone driving through the pool in a regular-sized car will find water nearly reaching the top of their tires at its deepest point.
Some people had their fun this week, including one Twitter user who brought a paddle board to the parking lot.
Fortunately for diners, there appears to be some respite on Wednesday afternoon, with a team deployed to drain the lake.
The existence of Lake Chipotle came to wider attention last year after years of social media chatter about Minnesota's newest lake among local residents.
It came to greater prominence on TikTok last April following a video posted by Owen Maupin, which shows Lake Chipotle listed on Google Maps with the caption "preserve our history."
Minneapolis is set to replenish its snow stocks with another fall starting Wednesday night and ending Thursday evening, dropping several more inches on the city.
While temperatures are expected to remain below freezing for the next week, prepare for Lake Chipotle to reappear for the next thaw.