Bartz brothers unveil their annual snow sculpture in New Brighton
Meet Slinky the Snail!
Just enough snow has fallen in the Twin Cities to allow the now-famous Bartz brothers to make their annual snow sculpture in New Brighton. 
Austin, Trevor and Connor Bartz created "Slinky the Snail," a 23-foot-tall snow sculpture that has been luring spectators in over the New Year with lines of cars and people stopping by the neighborhood to take their picture with the massive piece of winter art. 
If you want to stop by for a photo, just find a parking spot near its location at 2777 16th Street Northwest in New Brighton, walk up to Slinky and snap your photo. 
So where'd they get all the snow? They were hauling it in with a trailer and then got some help from Scenic Grounds Maintenance, "who came to the rescue with 4 dump truck loads of clean snow," the brothers said in a Facebook post. 
The Bartz brothers have been making a gigantic snow sculpture each of the last eight years.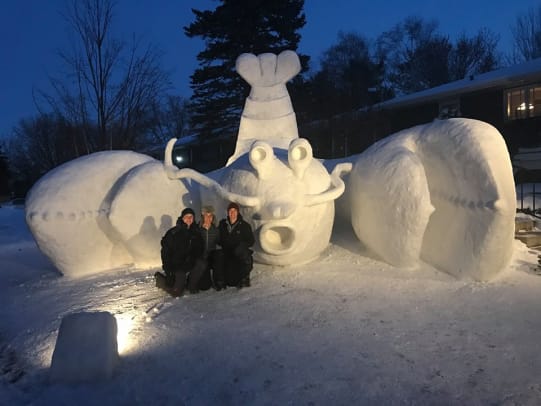 You can click here to donate and learn more about their fundraising efforts, which this year are aimed at raising money to provide clean water for people around the world.