Bobcat rescued, treated for injuries after being hit by car
A passerby brought the still-breathing cat to the Wildlife Rehabilitation Center.
The Wildlife Rehabilitation Center in Roseville had an unusual patient this past week, when an injured bobcat was brought to its facility.
The juvenile female bobcat had been hit by a car near Gilbert, in the Minnesota Iron Range, and was found by a passerby injured but still breathing.
As the WRC tells it, the person who saw the cat get hit kept it at their home overnight, before bringing the feline to the WRC's Roseville facility for treatment after noticing what appeared to be a problem with its hind legs.
Once there, it underwent a full work-up, including radiographs, an ultrasound, and a full physical exam.
Fortunately, the 13-pound cat was just stunned and suffered only a few superficial injuries. It was released to its habitat by the WRC after three days in its care.
It's a rare occurrence for a bobcat to arrive at the WRC, but spokeswoman Tami Vogel says it's now the third bobcat bought to the facility since October 2017.
Before that, only one had been brought to the center in its 40-year history.
"It's been the year of the bobcat for us!" Vogel said.
Check out these pictures of the bobcat being treated by the WRC.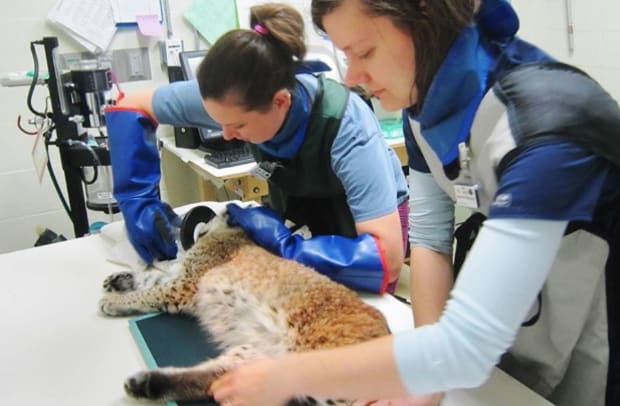 Bobcats, which are a cousin of the lynx and are also referred to as wildcats, tend to weigh between 13-30 pounds, though Big Cat Rescue notes that those found in the north of the country tend to be larger than those in the south.
At 13 pounds, the cat in Gilbert was much smaller than another unusual feline discovery in northern Minnesota, when a 142-pound cougar was struck (and sadly killed) by a car last month.