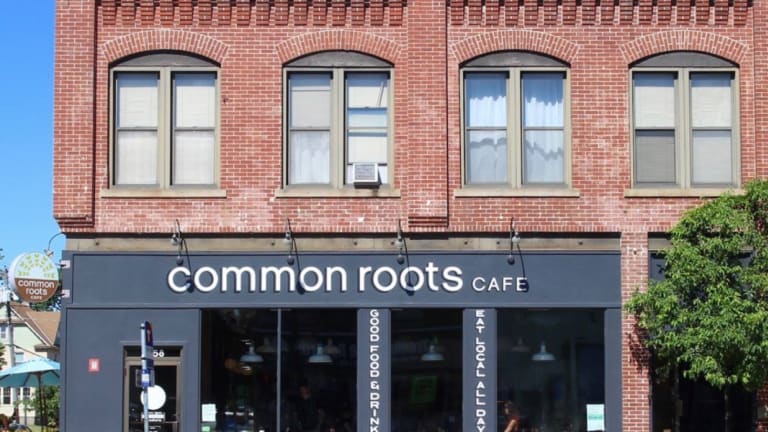 Common Roots employees respond to its abrupt closure after unionization attempt
A fundraiser has also been launched to help workers who suddenly lost their jobs.
Employees who found themselves suddenly out of work due to the abrupt closure of Common Roots Cafe have responded to its owner's explanation for the shutdown, which followed their attempts to unionize.
Dan Schwartzman made the shock announcement Wednesday that he was immediately closing his cafe after 15 years in business, citing challenging financial conditions both before and during the pandemic, but also his staff's plans to form a union.
A statement was issued Friday on behalf of the former workers who had pushed for a union at the Lyndale Avenue cafe, who say the effort to unionize came after they attempted to address problems with working conditions directly with Schwartzman, and that Schwartzman initially indicated he would recognize their union only to close the business a week later.
The letter claims that since the cafe reopened in 2021 after its COVID-enforced closure, workers had to deal with understaffing, "working unexpected overtime," a lack of all-staff meetings, and late notice of scheduling and operational changes.
The workers say that when they issued a collective letter to Schwartzman requesting a company-wide meeting to discuss issues, he responded with a "long email responding to points made in the letter" and allegedly turned down the request of an all-staff meeting. The letter goes on to say he initiated "one-on-one meetings with each employee," and that some workers "were surprised and intimidated by this choice."
Two staff members were allegedly fired following the one-on-one meetings in mid-November, which prompted some staff members to reach out to UNITE Local 17 to discuss unionization.
On Dec. 20, a letter was delivered requesting voluntary recognition of the union, which said 80% of staff support it, but waited to go public with the announcement "at Danny's request."
"In an email a few days later, he committed to voluntarily recognizing the union and seemed genuinely excited and ready to collaborate – more was to come. We were ready, realizing that we had stepped into our power," the letter reads.
On Dec. 28, Schwartzman announced that the cafe was closing immediately, with staff informed by email that evening before a public announcement was made.
"He phoned many employees as well," the statement says. "It came as a shock to most everyone. Scheduled shifts were suddenly erased and we didn't know that we had already left the cafe for the last time."
Bring Me The News has been able to corroborate that Schwartzman told the staff via a Dec. 22 email that he intended to recognize the union, albeit after reviewing documents with his attorney, and said that he thought it could be good for his business.
Schwartzman has also not responded to Bring Me The News' request for further comment, but told Southwest Voices on Saturday in the wake of the workers' statement: "I wish I could've improved communication challenges earlier."
A GoFundMe has been launched to help laid off workers who have been left in "unexpected financial straits." They say Schwartzman is paying out their PTO and a last week of pay, but "it is not nearly enough to make up for this disruption to our lives and our income."
In his closure announcement, Schwartzman said he supports the labor movement and "would have loved" being the owner of a union shop, but his abrupt decision and the letter from the former workers have led to claims of union busting on social media.
It's also been pointed out that Common Roots posted a job listing for a general manager with a salary of between $55,000 and $65,000 just a few weeks before the closure. The workers' statement notes the previous general manager left in the fall, and that the outgoing manager "had great interpersonal skills and worked extensively in every department."
Regarding the claims of union busting, the former workers say "there are multiple truths at play." They praise Schwartzman for prioritizing the "values of environmentalism and fair wages at the expense of profit," but add that they "believed an organized and engaged workforce would have helped him more sustainably run a business."
"As employees, we wanted to help make ends meet; in fact, we thought unionizing was the best way we could try. We did not get a chance to see it through. We have built a strong community of workers that will continue to support each other as we move forward. The lessons we learned and the solidarity we built throughout this struggle will not be lost."