Director Kevin Smith's fictional fast food joint coming to Minneapolis
Mooby's was first featured in 1999's Dogma.
If you're a Kevin Smith fan who's been nursing a craving for Mooby's since 1999's "Dogma," you can finally satisfy it in Minnesota soon.
The fictional fast food chain, which has been featured in many of the cult director's films (including 2019's "Jay and Silent Bob Reboot"), is being brought to life as Mooby's Pick-Up Experience in downtown Minneapolis next month.
Remembered for its loud purple, orange and yellow color scheme as well as the titular mascot Mooby the Golden Calf, the burger joint will be hosted by First Avenue's Depot Tavern from December 12 through December 19.
Here's a selection of pictures featuring Smith and "Jay" Jason Mewes, both of whom have a history in Minnesota given the pair both appeared in 1995's "Mallrats," which was filmed at Eden Prairie Center.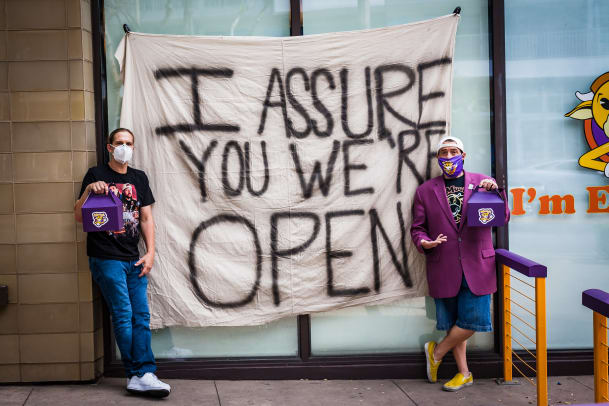 "We couldn't be more excited to host the Mooby's pop-up at The Depot Tavern. We've loved working with Kevin Smith in the past and are really looking forward to this next event. It is pretty cool to bring Mooby's to life for fans, especially now, when we could all use a little levity," First Avenue General Manager Nate Kranz said in a news release.
If you can't wait to get in on the action, don't worry — preorder will be available starting November 24. 
The Mooby's experience will include a "Jay and Silent Bob's Merch" pop-up shop, where you can also buy Mooby's gear, including "non-medical masks that can be pre-ordered for pick-up," the news release says. 
The Kevin Smith-themed popups started earlier this year in Los Angeles, when the director joined forces with the team who famously brought other fictional restaurants — including Saved by the Max, inspired by classic teen sitcom "Saved by the Bell" — to life.
Mooby's has also appeared in New Jersey, Chicago and Toronto.