Duluth Trading's new Mall of America store only sells men's underwear
The quirky concept store opened on Thursday.
The Mall of America finally has the store that the world has been clamoring for: one dedicated solely to men's underwear.
Move over Victoria's Secret, step aside Soma, Duluth Trading is venturing where few have derriered (sorry) in opening a brand-spanking (sorry) new concept store dedicated to briefs, jocks and boxers.
The celebrated Duluth clothing company has finally cracked (sorry) into the biggest mall in the Midwest, an achievement to which many retailers ass-pire (sorry).
With the retailer already having a full-sized store in Bloomington, the 1,700-square-foot space at the MOA has given it the opportunity to think outside the boxer (sorry).
Their underwear is already known for its cheeky (sorry) brand names, such as its flagship "Buck Naked Underwear."
And the store is so much more than just underwear, with the interspersed with exhibits that form part of The Museum of Man Area.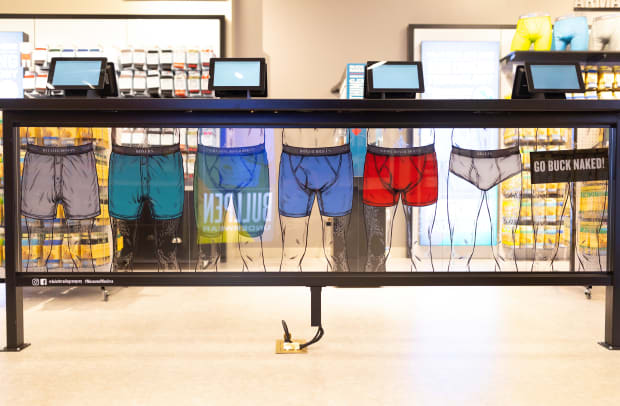 This museum, Duluth Trading says, is dedicated to the "leaps, bounds and triumphs Duluth has championed in its relentless crusade for advancing ingenious underwear innovation."
"We've been obsessed with advancing underwear comfort for the working man since we first introduced Buck Naked Underwear almost 10 years ago," said Ricker Schlecht, Vice President of Product Development and Creative, Duluth Trading.
"The Museum of Man Area celebrates all the breakthroughs we've had and all the pinching, chafing and overheating we've solved over time. Oh yeah, and there's a giant rooster – I'm speaking literally, not figuratively."
The store celebrated its grand opening (erm...) on Thursday.