First new riverfront park in more than a decade opens in North Minneapolis
The signature element is a 35-foot light beacon.
The signature piece of the new 26th Avenue North Overlook park is its riverfront beacon. Standing 35 feet tall and gently angled toward the waters of the Mississippi River, the beacon's light can display a host of dazzling colors projected into the air.
But the site carries additional significance. It transformed what had been "a run-down dead end with a tall fence," as the Minneapolis Park and Recreation Board Superintendent Al Bangoura put it, into the first new riverfront park space in North Minneapolis since 2007. 
"I'm proud of the work that went into this project, designed by Black professionals with contributions from Black youth artists in North Minneapolis," Bangoura continued. "It's a product of our philosophy of integrating the community in the design of park projects and providing the community a stake in what is built in their neighborhoods."
Here's a photo gallery of the new site:
26th Avenue North Overlook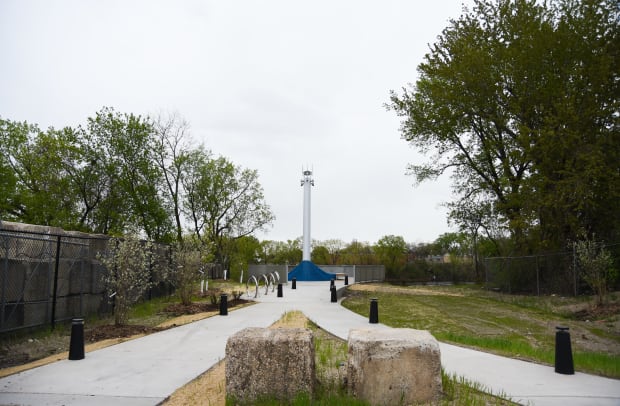 "When the park system was imagined 140 years ago, the upper riverfront was already occupied by industry," said Tom Evers, executive director of the Minneapolis Parks Foundation. "This is one stepping stone toward reversing past decisions that separated North Minneapolis, and specifically African American communities, from the Mississippi River."
The overlook juts out over the riverbank, and visitors can suspend themselves over it on the play netting that surrounds the beacon's base. The shoreline itself was stabilized, and native vegetation planted thanks to funding from the Mississippi Watershed Management Organization. And while the beacon will offer colorful light displays, it won't be turned on at night during spring and fall migration, to protect birds along the Mississippi Flyway.
The overlook also acts as something of a connection point. It represents the easternmost spot on recently completed, off-street bike and pedestrian trails that run along 26th Avenue North - essentially connecting the river with  Theodore Wirth Regional Park. Officials are also exploring the construction of a trail to connect the overlook with Ole Olson Park just to the south.
The new overlook is located at 26th Avenue North, where it meets the western banks of the Mississippi River. The Minneapolis Parks Foundation has a photo album of the new spot here.