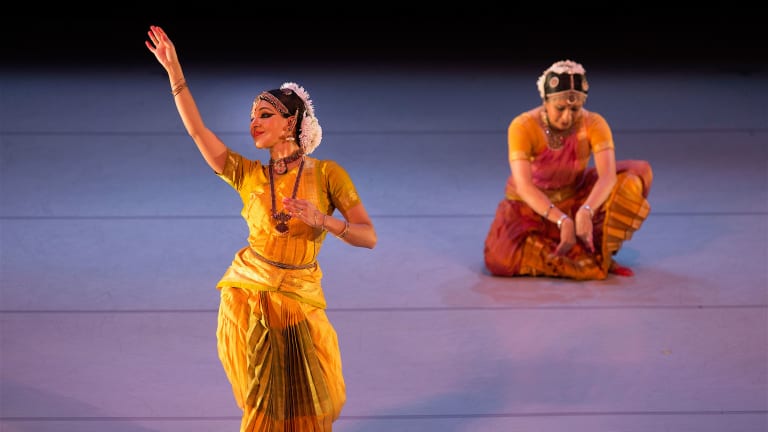 For one night only, mother-daughter dance company will wow The Ordway
'Written in Water' will be performed at the St. Paul theater on Feb. 15.
For one night only, the Ragamala Dance Company will bring its critically acclaimed show "Written in Water" to the Ordway Center for the Performing Arts in St. Paul.
Part of the Ordway's Music and Movement Series, "Written in Water" promises to be engaging, riveting, and fun to watch. 
It was named by the Chicago Tribune among the best dance shows in Chicago in 2019 with an "exquisite tableaux and glorious score, an ingenious, hybridized fusion of Sufi and Carnatic music, played live."
The Ordway show will be held on Saturday, Feb. 15 at 7:30 PM. Get your tickets by clicking here.
Pre-show extra and post-show mingle
Make a full night of it and take advantage of the extra events being held to coincide with the performance.
At 6:30 p.m., there will be a free Ordway Extra event, "Ode to Navarathri." This pre-show event celebrates the South Indian festival of Navarathri, a time when people gather to share art. 
After the show, join the artists for a 20-minute Q & A "Talk-Back" and mingle in the Target Atrium. There will also be a cash bar.
An award-winning, mother-daughter partnership
The Minneapolis-based Ragamala Dance Company is led by mother-daughter team Ranee and Aparna Ramaswamy. Mother Ranee founded the company in 1992, while another of her daughters longtime company soloist Ashwini, also recently joined their creative partnership.
Together, they use dance and music to explore their heritage. Their performance has been called "soulful, imaginative and rhythmically contagious" by The New York Times. 
Ragmala has received awards from organizations including the National Endowment for the Arts, the Joyce Foundation, the National Dance Project, the McKnight Foundation, and the American Composers Forum.
They have performed across the US and around the world, including at the Lincoln Center, the Kennedy Center for the Performing Arts, the Arts Center at NYU Abu Dhabi (United Arab Emirates), and Sri Krishna Gana Sabha (Chennai).
Where to get tickets
Tickets prices range from $27 to 42 and can be purchased through the Ordway's website or at the Ordway Box Office at 345 Washington Street in St. Paul.

Click here for more information and to get your tickets.