Forest Service finds 2.28 tons of trash on just a 3-mile stretch of road in Hoyt Lakes
The agency is reminding people to stop dumping their old stuff.
The U.S. Forest Service is asking people to stop dumping their trash along roadways after more than two tons of trash was found on a short stretch of Iron Range road.
Forest Service workers recently collected a whopping 2.28 tons (4,560 pounds) of trash during a cleanup day along a 3-mile stretch of Forest Road 117, north of Hoyt Lakes, in the Superior National Forest. 
They found seven TVs, furniture, vacuums, 12 tires, box springs, beer cans, pop cans, toys, an antique pickup cylinder and other pieces of trash during the May 27 clean up, the Forest Service said Wednesday. There was so much trash, it filled five pickup truck loads and two dump trailers. 
Forest Service clean up day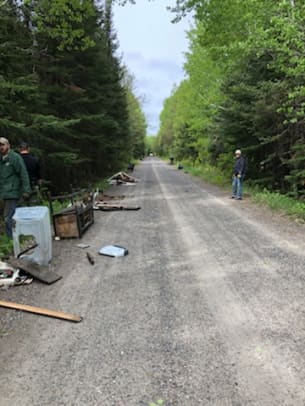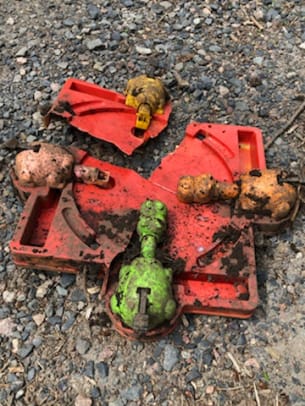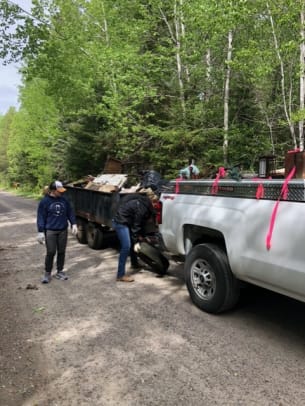 "Dumping on public lands is not legal or free," the U.S. Forest Service-Superior National Forest said in a Facebook post on Wednesday. "The Forest [Service] ends up cleaning up after other people and footing the bill for disposal."
The Forest Service had to pay $181 to dispose of the trash, but it also cost the Forest Service employees time to gather and haul all the trash to a dump.
"Once you take all the salaries and Transfer Station bill into account, you realize pretty quickly that illegal dumping on public land is certainly not free," Kirsten Rosenberger, pre-sale forester on the Laurentian Ranger District, who helped with the cleanup, said in a statement.
Instead of dumping old stuff and trash along forest roads, the Forest Service is asking people to help keep forests clean and healthy by bringing their trash to a local disposal site. 
The Forest Service is reminding people that unauthorized dumping of trash and other materials, including branches, rock, soil and yard waste, is illegal. 
And if you see anyone illegally dumping, contact the local Forest Service office or Forest's tip line with the date, time and location of the incident, a description of the vehicle/license plate number, description of the person and what was being dumped. 
The Superior National Forest's Laurentian Ranger District held the district cleanup on May 27 as a way to bring staff together after a year of social distancing during the COVID-19 pandemic. Workers had heard Forest Road 117 had become a dumping ground, so they decided to host the cleanup day there. 
Thirty Forest Service workers and two retired employees participated in the cleanup day.