Gallery: Bemidji students' tiny house is for sale
The house was built as a scholarship endowment project.
A tiny house that students at Bemidji State University built to create an endowed scholarship is on the market. 
Students in BSU's School of Technology, Art and Design built the 206.18-square-foot home, and it's being sold to the public via a sealed bid process. The minimum bid is $50,000, the information packet says. 
The main floor of the tiny house is 7.5 feet by 23 feet, totaling 172.5 square feet. It also features a loft space that's 33.68 square feet. 
Have a look inside: 
Bemidji State University Tiny House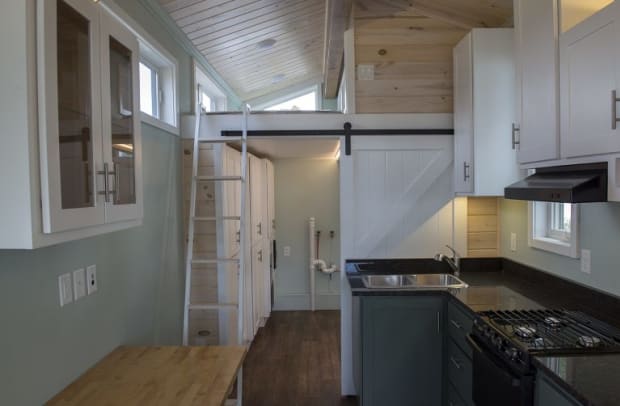 The home has a gable roof, cedar beveled siding and Marvin Integrity Ultrex windows and patio door, with screens. The bathroom features a 32-inch neo-angle shower, a ProFlo flush toilet that's prewired for an optional composting toilet, an option to install a washer/dryer, full-height wall storage cabinets and an EZ Tankless water heater. 
Appliances also include an Atwood LP gas range and slide-in cooktop, Norcold gas/electric refrigerator, Daikin split air conditioner/header and two 20-pound LP tanks with a regulator. 
Tim Brockman, a professor with the School of Technology, Art and Design, told Bring Me The News on Monday they haven't received any bids yet, but they're getting requests for private showings before the prospective buyer submits a bid.
Bids are due by Monday, Aug. 23. Here's where you can find more information on the bidding process. 
This is the first time a tiny home has been built by students in the School of Technology, Art and Design, with Brockman telling BMTN it was a student suggestion in the built environment course in the fall of 2017. 
"It started with the design and sourcing materials and donations in fall of 2017. The exterior was constructed in 2018 and the interior was finished in 2019. When COVID hit, we had a punch-list for the student to complete, but students were not back until late spring of 2021. At which point it was completed," Brockman said. 
It was an interdisciplinary project: the design students designed it, the construction management students built it under the guidance of the applied management majors, with input from a sustainability student. Then business marketing students surveyed the BSU alumni asking what features they'd like to see in the tiny house and also created the marketing plan for auctioning off the tiny house, he explained. 
"It was an outstanding learning platform for an interdisciplinary project to create and endowed scholarship for our students," Brockman said.