Gallery: Check out Rosedale Center's major expansion plans
New housing, a hotel, more retail space and a grocery store will be built on site.
While other malls around the country are struggling with the changing retail landscape, Rosedale Center has revealed plans it believes will secure its future.
The Roseville mall revealed this week plans for a major expansion, which will change the face of its site by adding new boulevards to the south side of the mall.
These boulevards will be surrounded by new housing, a hotel, a grocery store, street-level retailers, the entrance to the mall itself, and the AMC movie theater.
It will replace the building that formerly housed the Herberger's department stores, as well as space that is currently used for a parking ramp and surface parking lot.
The $100 million expansion would create what Rosedale calls a "mixed-used, urban-style" center, with the mall's management team expected to submit formal plans to the City of Roseville in the near future, with a view to starting construction work next year.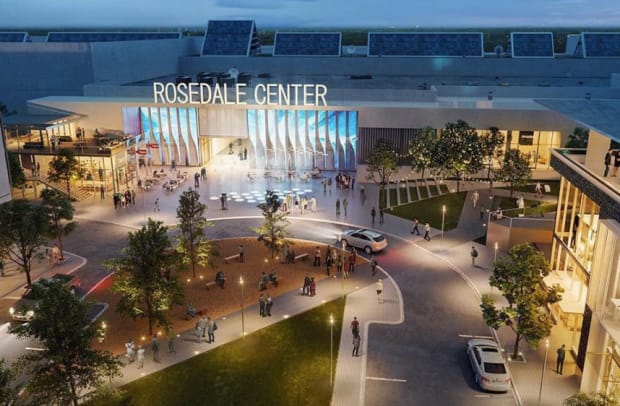 Rosedale, one of Minnesota's busiest malls with more than 14 million visitors annually, has been taking steps to expand its offering at a time when many other malls are striving to stay afloat.
A $76 million renovation completed in 2018 saw the addition of Von Maur as an anchor tenant, as well as a new food hall that closed earlier this year, but is re-opening soon with a focus on Minnesota vendors.
"Rosedale Center is a very successful shopping and retail center because it has continued to grow, evolve, and change," said Lisa Crain, Rosedale Senior General Manager, in a press release sent to BMTN. 
"Our vision and these exciting plans build on this success by transforming Rosedale into a place to live, work, eat, as well as shop for even more things than you can today."
Julie Wearn, CEO of Roseville Visitors Association, added: "Rosedale is a regional destination that not only brings millions of people to our community, it also enhances the quality of life here through the stores, restaurants, and retail it offers.
"At a time when unfortunately, other retail centers are looking at how to deal with contraction, this is investing with a vision for an even stronger future. Adding more places to live, a new hotel, and other shopping is great news for Roseville and will help us bring more people, events, and excitement to our community and region."