Gallery: Downtown apartment building is made for young, car-free professionals
The City Club Apartments building opened this week in Minneapolis.
A new apartment complex aimed at the modern young professional has opened in downtown Minneapolis this week.
City Club Apartments – Central Business District (CBD) Minneapolis, has arrived on 10th Street, between Marquette and Nicollet, to fanfare proclaiming it as a "disruptive" addition to Minneapolis' rental market.
It's home to communal areas decorated with graffiti art and wall prints, and filled with trendy, modern furniture, along with a rooftop "Sky Park" comprising a swimming pool, spa and outdoor movie theater.
The top floor of the 17-story building is also home to a "cabin-inspired" Sky Club with a community gourmet kitchen, big-screen TVs and a fireplace "where residents can host private dinners, entertain or connect with their neighbors."
Residents of its 307 loft-style apartments and penthouses, complete with "sexy bathrooms," also get access to a "Bark Park" for dogs.
Next door is the Eleven Artisans Brewery and Restaurant, which also has a "dog menu" and was created after the conversion of the historic Guild Assembly Hall. The adjacent 1907 Handicraft Building was also preserved as part of the development.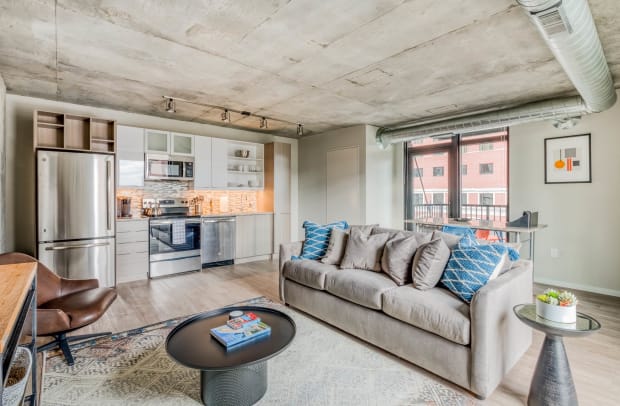 Unusually though, the apartments don't come with any parking spots aside for those in the building's 10 penthouse units, a move taken in recognition of the growing trend in Minneapolis towards eco-friendly living.
"We were purposeful when it came to parking," said City Club Apartments CEO Jonathan Holtzman. "We are focused on the future and believe in minimizing our carbon footprint and the elimination of the car in our urban cores.
"With this city's excellent public transportation options, our proximity to the Skyway, access to bike share and Uber, and Lyft and other rideshare options, there is no reason to have a vehicle downtown."
When it was announced in spring 2018, City Cub Apartments said the accommodation would be affordable for young workers earning between $45,000 and $65,000.
Now in launch week, its apartments were listed starting at $1,200-a-month rent, though currently available lodgings range from $1,330 for a studio apartment, up to $3,330-a-month for a 2-bed, 2-bath apartment.
For reference, the estimated monthly take-home pay for someone on a $45,000 salary is around $2,920 after tax, and for those earning $65,000 is around $4,000.