Gallery: Historic St. Paul home that F. Scott Fitzgerald frequented is for sale
The home was featured in one of Fitzgerald's short stories.
A St. Paul home that's vividly described in one of F. Scott Fitzgerald's short stories is for sale. 
The historic Charles W. and Mary Ames House, which was built in 1886 at 501 Grand Hill in St. Paul, is on the market for $1.55 million, according to the listing. When Fitzgerald was young and living in St. Paul he was friends with the Ames' children, and the home apparently had such an impact on him that he described it in several short stories, including "The Scandal Detectives."
Listing agent Marcy Wengler of Edina Realty says her favorite feature of the home is "the beautiful attention to detail that was used throughout the home, as well as the thoughtful updates that including preserving the original icebox in the pantry during a kitchen remodel in the 1990s."
Here's a look inside: 
501 Grand Hill in St. Paul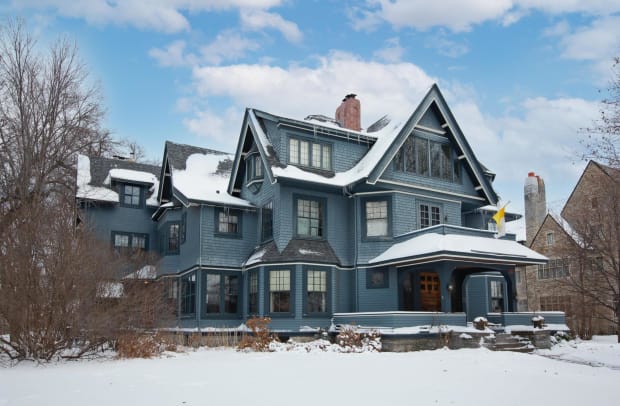 The 8,978 square foot home has 11-plus bedrooms, seven bathrooms, and 11 fireplaces on three-plus stories, located just steps from Grand Avenue and historic Summit Avenue in St. Paul.
The "truly remarkable" home features its original details, such as windows, tiled fireplaces, built-ins and "numerous porches," as well as "thoughtful additions" added by the owners in the 1990s. The home has expansive living spaces, including the third floor with a second kitchen that can function as its own separate apartment. 
Buying or selling? Find a realtor using Bring Me The News' online directory
The main kitchen offers two butlers pantries for entertaining and storage. There's also a garden room with an indoor lion's head fountain and original trellises, a library, an office and other spaces fit for entertaining. 
The current owner has owned the Charles W. and Mary Ames House for nearly 30 years, where he raised his seven children. 
"The family loved hosting events for the community. Since listing the home, I am amazed at how many people have reached out to tell me they had been to the home for various gatherings," Wengler told Bring Me The News. 
Wengler said this home would be perfect for "a large family or anyone who appreciates the rich history of old homes."
The latest forecast from Sven Sundgaard