Gallery: Minneapolis home revamped by HGTV is up for sale
It's yours for $650,000.
Just a few months after HGTV ran a sweepstakes competition offering entrants the chance to win a Minneapolis house, the property has hit the market.
The lifestyle channel refurbished the 1,800-square-foot home at 4112 Nawadaha Boulevard in south Minneapolis, which was the HGTV Urban Oasis 2019.
It took daily entries for its sweepstakes between the start of October and late November, receiving 69 million entries in the process.
Here's a look at the house after it had been revamped by HGTV. You can find more updated pictures of it here on the listing.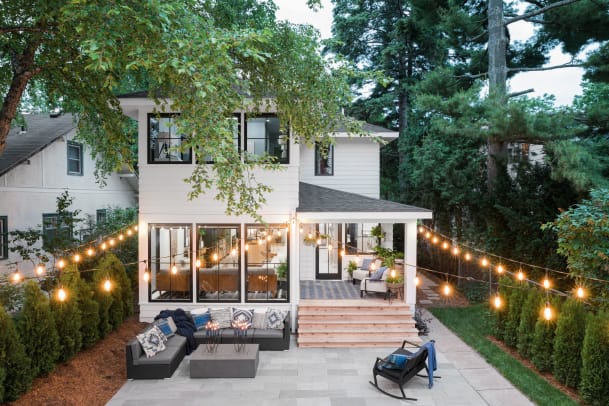 The winner of the contest was Fannie Allen of Tuscon, Arizona, who at the time she won said she "loves the house."
Well the thing is, Fannie Allen isn't listed as the owner, instead the property is owned by an LLC managed by a Knoxville, Tennessee company that has the same address as ... you guessed it, HGTV.
If you look at the fine print of the sweepstakes contest, the winner of the house has the option of a $300,000 cash prize instead. Evidently, Ms. Allen took the easier option.
It may not end up being the most lucrative though, given that the listing on Edina Realty has an asking price of $649,999, a significant bump on the $320,000 it sold for in 2018.
For the money, you get a 1920s home that has been completely revamped.
Here's the description from Kim D. Eckert, of Keller Williams Integrity Realty.
"This modest 1920's foursquare near Minnehaha Falls was your typical boxy stuccoed two story with practical space that did not call too much attention to itself. At least, not until HGTV got a hold of it! The design was a collaboration between P/K Architecture, design build manager Dan Faires, & Joshua Ortmeier from Reuter Walton Const. In back, they built a 500 sq/foot addition to accommodate a new living room and mudroom on the 1st floor, plus a master suite on the second.

"In the kitchen, a wall of cabinets conceals the fridge & pantry and includes a clever nook for a big window & professional style range. Upstairs features two bedrooms a full bath plus the new master suite w/bathroom that boasts luxurious touches. All these interior designs were led by designer Patrick Flynn. The clean black & white color scheme, light wood floors, natural materials, variety of textiles, make this "Scandinavian farmhouse" embrace a comfortable & cozy lifestyle."
Here's an interior tour of the property courtesy of HGTV.