Gallery: Take a sneak peak at Candytopia at the Mall of America
The Wonka-style candy museum opens on Thursday.
"Invention my dear friends is 93% perspiration, 6% electricity, 4% evaporation, and 2% butter scotch ripple."
So said Willy Wonka in the 1971 movie classic, and you can see the efforts of said perspiration at Candytopia, which opens on Thursday at the Mall of America.
The touring candy museum displays the efforts of around a dozen designers who have toiled for months to create spectacular statues and models using naught but candy, glue and framing.
Guests are taken on a journey through 14 themed rooms that feature spectacular candy likenesses of the Egyptian Sphinx, Van Gogh's "Starry Night," the Statue of Liberty, a great white shark, and Rodin's "The Thinker," among many more.
And since Candytopia is touring in the Twin Cities, there's a nod to the Minnesota Vikings, as well as a candy-formed Prince guitar.
The influence of Roald Dahl's Wonka and the movie adaptation is evident throughout. 
An early stop on the tour gives visitors the chance to be pictured in a (sadly, computer generated) chocolate river, while the same room has pedals that, when pressed down upon, emit scents of chocolate and peppermint from nearby flowers.
The corridors between the rooms can include mind-bending portals reminiscent of a hallucinatory boat journey with Gene Wilder.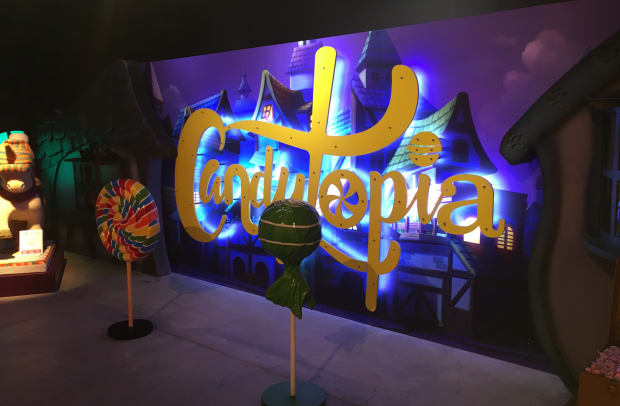 And while the statues are not eatable, I mean edible, I mean you can't eat them, you are allowed to touch them, or at the very least marvel at the effort that went into making them.
The candy Statue of Liberty, by no means the smallest model on show, includes 60,000 pieces of candy, took a ridiculous 198 hours to build, and contains a stomach-churning 16 pounds of sugar.
Each room has a container filled with candy, with kids able to get their fix of pixie sticks, Lindor truffles, Trolli Crawlers, Tootsie Pops and Airheads as they progress through candy fantasy.
The tour culminates with a visit to a marshmallow pit play area for kids (no, it's not real marshmallow, it's foam).
Unless your kid spends an hour in the pit you'll likely be through the whole exhibit in a half-hour, so it's probably not worth the $28 entrance price for adults and $20 for children aged 4-12.
Then again it's the Mall of America, so you're likely to pay a premium for entertainment whatever it is you choose to do in there.
Candytopia opens on Thursday and will run until the summer. You can reserve tickets right here.