Gallery: The best of the new foods available at Allianz Field this season
BMTN food writer Lindsay Guentzel samples the new foods  on offer at Allianz Field.
Many years ago, before the excitement of joining Major League Soccer, I was actually the team reporter for Minnesota United FC. Today was my first time inside Allianz Field and let me tell ya – things have changed, and not just because of the beautiful new stadium (no offense, National Sports Center).
The entire atmosphere, down to the garnishes in the cocktails, has been maxed out in the best way possible. It was a pleasure to see some old friends and try out some new food and I can't wait to get to a match this season.
Gone are the days of mediocre hot dog on a slight, stale bun. Now good food is a must for stadiums, and Allianz Field is no exception.
With their first home match of the season on the horizon – March 15th against the New York Red Bulls – the team took a quick opportunity to show off some of their new food offerings for the 2020 season.
From a Juicy Lucy sausage to a Renaissance Festival-inspired turkey leg, there are plenty of delicious new items to check out this year.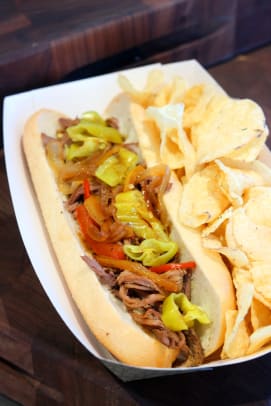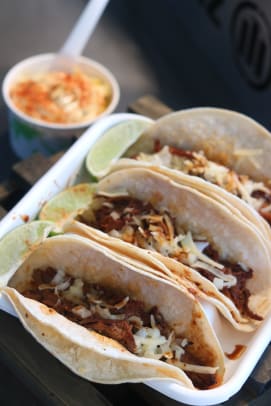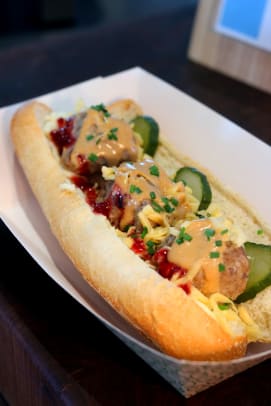 Here are a few of my favorites.
Salad of the Day
You might be thinking, "Who goes to a soccer match and orders a salad?" This gal would. In fact, I'm frequently underwhelmed by the vegetable offerings at the stadiums in the Twin Cities. Will you stand out amongst masses with your baby spinach? Maybe. But the upside of having choices is getting to do whatever the heck you want. And if that's a salad on a hot summer day, more power to you.
What's really cool, Chef Bill Van Stee says Delaware North (the food and drink partner at Allianz Field) will be working to change up the Salad of the Day to match the season. With a season that runs from winter through summer and into fall, a variety of flavors is incredibly important. So keep an eye out for different options when visiting Allianz Field this season.
The Smoker at Global Street Grill
No, it doesn't have a fancy nameplate and you won't find it on any maps. But you really should. Just a year after opening, Allianz Field has added a smoker to the stadium's inventory. A highly-anticipated addition, according to Van Stee. "People gravitate towards smoked food," he said. "It feels like summertime. It was one piece of equipment that this building really needed." On the menu right away? A Mongolian Pork Shoulder and a Smoked Caribbean Brisket, served on a lunch plate with baked beans, house sweet pickles and a King's Hawaiian roll. Both are delicious, although I enjoyed the deep richness of a the Mongolian Pork Shoulder a tad more. 
The Irish (Nachos)
The brand-new smoker gets to show off right away with these Irish-style nachos. Crispy French fries, smoked brisket, seasoned sour cream, chives – while all delicious, the real star are the fried jalapeños that add a crunchy kick to the dish. Share this with your group as an appetizer during the introductions (it's big enough to share, no worries). 
Pulled BBQ Jackfruit Sandwich
Vegetarians, rejoice! Allianz Field had your taste buds in mind when they created this gem of a sandwich – the spicy tang of the house-made BBQ sauce is so well done even carnivores will crave it. Thai jackfruit, garlic, white onion, thyme, bell peppers, onions, pineapple salsa on top of a hoagie roll. Make it vegan by easily forgoing the bun for a BBQ Thai bowl instead.
Grand Old Creamery's Mango Ice Cream
The iconic Twin Cities ice cream shop has tons of options to help you stay cool this summer. But its their mango ice cream that will no doubt have the crowds lined up on a hot sunny day. Their Bubble Tea-inspired ice cream features fresh mango and Boba (a sweet tapioca alginate-based orb) and is traditionally served in a waffle cone. Don't be picky about the vessel your mango ice cream comes in; just makes sure you get it.
Gluten-Free Treats at The Buttered Tin
I'm one of the annoying humans who perks up whenever I hear gluten-free. So when Alicia Hinze laid out the list of sweet treats The Buttered Tin will be offering at Allianz Field this season, I was overjoyed to hear her mention they'll have a gluten-free treat for sale. "We're thinking a brownie bite," she told me. In addition, they'll have plenty of sweet offerings for fans to enjoy in the Café Beignet.