Gallery: This historic Rochester home comes with its own cave system
It's on the market for $550,000.
The picturesque Rochester home that sits at 933 11th St. SW is a first for agent Julie Glass-Yares.
"Never sold a property with a cave before," she told Bring Me The News.
Yes, this four-bedroom, three-bathroom home with historic connections to the famed Plummer House isn't just nestled into the base of a hill, but features attached caves. 
"Someone could really have a lot of creative license and make that area whatever they would want it to be," Glass-Yares said, noting it remains a consistent 52 degrees or so year-round.
Listed for $550,000, the home was made available for showings Thursday, May 6, and has been booked all day, said Glass-Yares' fellow listing agent, Michael Korby. It's racked up more than 47,000 views on Zillow in less than 24 hours, and was even featured by the Zillow Gone Wild Twitter account. 
There's an open house slated for Saturday, May 8, from 11 a.m.-3 p.m. But you can take a look inside with this photo gallery:
933 11th St SW, Rochester, MN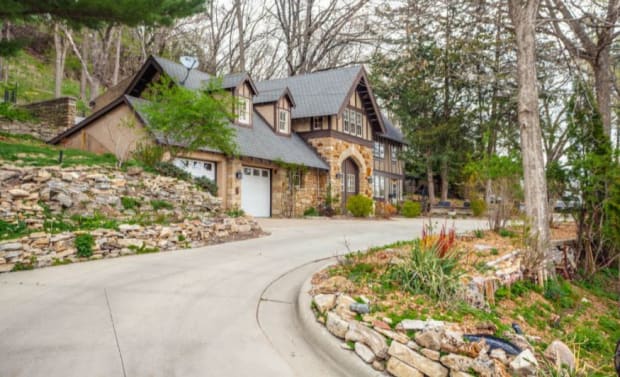 The property was originally built in 1926, and served as a pump house for the main estate of Dr. Henry Plummer and his wife Daisy, which sits atop the hill and is on the National Register of Historic Places.
The pump house had pipes that helped run water up to the larger property's water tower, Korby said, and the building was used to store other things, such as carriages and liquor. Over time, gardeners and caretakers may have lived there as well.
While the main Plummer mansion is now maintained by the city, the former pump house now up for sale is believed to be the only piece of the Plummer estate that is still privately owned, Korby said. The current owners, who went to great lengths to modernize the home while respecting its historical value, have lived there for 34 years. 
So, what is a buyer getting?
Four bedrooms and three bathrooms, with 3,000 finished square feet
A cave split into three sections, totaling about 3,600 unfinished square feet
The home's original carriage doors
Private outdoor spaces
A sitting room with a fireplace, featuring the original beamed ceiling and pegged wood flooring
Newer additions that harken back to the past, including period slate flooring, plus a floating staircase with brass accents. 
The owners - Dr. Peter Dyck and his wife Isabelle - were both drawn to the historical aspects of the house. They haven't just updated it, Korby said, but have kept it in "phenomenal condition."
Check out the listing for more photos, additional information and even a virtual tour.