Gallery: You can now rent a Wisconsin lodge linked to Al Capone, John Dillinger
It's been transformed from a supper club into a vacation rental.
As vacation rentals go, it doesn't get much cooler than Calderwood Lodge in Wisconsin.
What was formerly the Calderwood Lodge Supper Club was sold and turned into a vacation rental by Twin Cities-based Lake Sotheby's Realty agents Nate Labatt and Eric Hermanson
Situated on Bone Lake southeast of Luck, just across the Minnesota border, the cavernous lodge has space for 30+ people and comes with 300-feet of lake frontage.
But what really makes it stand out are the legends that surround the property.
While never officially substantiated, the former supper club was confident in its claim that the lodge was a Roaring '20s haunt for some of the most famous gangsters, among them Al Capone, John Dillinger, Ma Barker and Alvin Karpas.
Capone was a frequent visitor to Calderwood Lodge, it was claimed, along with all manner of wealthy guests who would take the train to Luck from Chicago, the Twin Cities, Milwaukee and Iowa.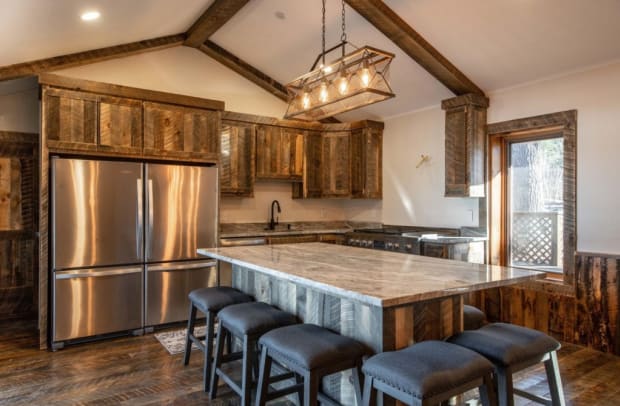 Despite prohibition banning the sale of alcohol, it's been suggested that the lodge continued to serve booze by hiding it in concrete storage vaults across the lake, which would then be taken across by boat.
Now anyone can follow in the mobsters' footsteps all by renting out the entire lodge, with prices starting from $899/night.
Labatt and Hermanson have overseen the transformation of the lodge, which now houses 7 bedrooms, 3 bathrooms, an open concept living/kitchen/dining area, a patio with a grill, and up-to-date equipment and amenities.
Then there's the small matter of the full-length bar and original stone fireplace that make it a perfect venue for entertaining large groups.
Bone Lake is known for its fishing too, with bass, northerns and muskies all found in its waters.
Calderwood Lodge has a concierge service and offers a variety of additional services for extra charge, including a private chef, a chauffeur, an in-home yoga instructor or massage therapist, and grocery and drink shopping.
You can find out more about renting the property on Minnestay.