How a turkey's brush with celebrity in Bloomington came to a tragic end
DNR: if you care about wild animals, stop feeding them
Just after the pandemic hit the Twin Cities, Alayna Skogland was running errands in Bloomington one day late March when she noticed a pair of brown eyes staring into the windows of Bruce's Penn Lake Barbers.
After dropping off her mail, she couldn't resist circling back through the strip mall to check on what appeared to be a "disoriented," young turkey. He was still there hours later, she said. 
"He literally sat in front of that window, I want to say, all day," she said. "I had to go back to see if he was still there." 
She snapped a photo and posted it to a popular Bloomington community Facebook group with the caption: "This Turkey Tom has been waiting all day long for a haircut at Bruce's Penn Lake Barbers. He must not have got the news." 
So began the saga of Penny the turkey, named by residents for his daily appearances along Penn Avenue South and 90th Street, a main thoroughfare in Bloomington. He was a frequent subject of photos in neighborhood social media groups, where residents bonded over their connection with the bird. "It put a smile to my face every single day," Skogland said. 
After attracting hundreds of passionate fans as well as some haters, Penny was shot by the Minnesota Department of Natural Resources last week. It marked the end to a myriad of phone calls to local authorities, Bloomington Police Deputy Chief Mike Hartley said. 
Records show 16 calls to Bloomington police regarding the turkey since April, with four occurring in November. Residents were also calling the DNR, spokesperson Joe Albert said. 
While urban turkeys regularly gain the attention of human neighbors, Penny's following was remarkable: cards, balloons, flowers, candles and french fries adorn his memorial outside of the BP gas station, one of his main hangouts. 
Many residents have expressed dismay on social media, arguing Penny could have been relocated or simply stayed because he had yet to physically harm someone. 
But Penny had reached a point of no return, said DNR expert Scott Noland. He was no longer backing down from humans, marking what wildlife experts consider "aggressive behavior." He added that the DNR has records of people being scratched by the spurs on turkeys' feet. 
In addition, authorities were concerned by the near-accidents among drivers trying to avoid hitting Penny when he would stand in the street, as well as motorcyclists and bicyclists trying to speed away from the turkey chasing them. 
"I'm thankful that we didn't have a situation [where someone could] get hurt, or God forbid, get killed," Albert said. 
Skogland contacted the DNR in the spring and argues that he could have been relocated before he grew accustomed to humans. Still, Noland said, the DNR no longer recommends relocating animals "in general."
Officers from multiple agencies had tried to capture Penny to no avail. And even if they had, they likely would have been transporting him to a place where he either may not have been able to fend for himself in the wild, or where he would have simply continued to find his way to humans, Noland said, adding that rehabilitating him at a wildlife sanctuary also wouldn't have been possible. 
While many in the Bloomington community were in on the Penny situation, visitors passing through the busy intersection were not as familiar, making it an especially nerve-wracking experience, Albert said. 
A widely circulated video shows Penny chasing a motorcyclist, one of his frequent pastimes. 
"From all my neighbors and Bloomingtonites, I know about their love of the turkey. But I also know, from a public safety standpoint, when you are pumping gas, you should not have to be accosted by a wild animal," Hartley said.
Some of those who mourn Penny were also the ones who led him down a dangerous path by continuing to feed him. 
"At the end of the day, this bird's behavior had been altered by being fed by humans," Albert said. 
Urban turkeys are an increasingly common phenomenon, DNR data show. The animals, native to Minnesota, were nearly wiped out by humans by the 19th century. In the '70s, the DNR sought to intervene. They brought a couple dozen turkeys in from Missouri, and trapped and released the growing population over the following decades.  
Now, Minnesota is home to more than 70,000 wild turkeys, which the DNR touts as a major conservation success story. 
As tempting as it may be to interact and feed them, the best way to preserve their success is to leave them alone, allowing them to stay wild, Noland said.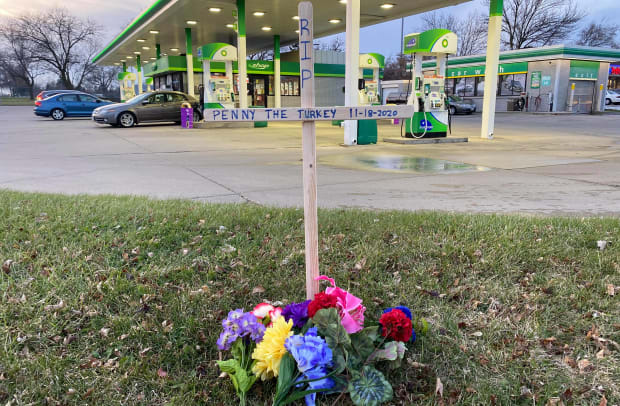 The rise and fall of Penny
Penny's last days were marked by an uptick of human attention — both from authorities and from fans on social media. 
On Monday, Nov. 16, three Bloomington police squad cars rolled into BP gas station, followed by one animal control vehicle, said Gryopolis employee Zach Papazois, who watched from his workplace across the street. 
As Penny idled around the gas station, authorities huddled in a circle before disbanding, he said. 
Hartley said the officers were responding to a call from someone who felt unsafe with Penny approaching and "circling" them. 
"Wild turkeys are big birds, strong birds; they have beaks, talons. An animal that's acting in this way, you don't know what's going to do," Albert said. 
The next day, the Bloomington Police Department issued its second press release urging the public not to feed Penny.
"Again, we are asking the public to not feed the turkey, so we can hope to have a positive outcome with this situation," Hartley said in the statement. 
And on Wednesday, Nov. 18, Penny was shot — a move that wasn't coordinated between the Bloomington police and the DNR, officials from both agencies said. The DNR has authority over these decisions, which can be made by individual officers, Albert said. 
The Bloomington area conservation officer had been waiting for the right opportunity over the past few weeks, he said, adding that the officer didn't want to shoot when Penny was near people.  
But on that fatal day, the officer watched Penny cross the street from BP to the Lincoln Stadium football field. The rest is history. 
"We understand that people are going to have different reactions to it," Albert said. "We don't take that lightly, this isn't something that makes us happy." 
The body was donated for meat — just in time for Thanksgiving. The DNR has a needs-based program in which people can request to be on a list for conservation officers to contact when salvageable animals are available, Albert said. 
Skogland says she would have liked to see more communication from authorities to the public, as well as communication between agencies regarding the decision.
"It can't just be the DNR in a city, making their decisions," she said. "They definitely should have responded [to people's concerns] more timely and not got it to this point where you have this large community in this area that is obviously upset." 
Community shares Penny stories
Penny was believed to be less than a year old, based on the fact local business owners report he first started to grow a beard — wiry hairs that stem from the chest — in the summer, which indicates around five months of age, according to wildlife experts.
"We watched him grow," said Dino Contolatis, owner of Grypolis on Penn and 90th. "He was a skinny bird; he became really plump." 
His wife, Stephanie Contolatis, said she and her daughter would talk to Penny as if he were a dog: softly and conversationally.
"He would make the most beautiful little noises," she said. "It seemed really social, like it wanted to be around us."
Dino Contolatis added: "He would also gobble, especially if he got excited."
For most of March and April, Penny generally stayed in his lane, area business owners and employees say. 
It wasn't until May that Penny acted boldly enough for Gyropolis server Zach Papazois to carry a broom with him to shoo Penny away when running orders to cars. 
Papazois says he spent much of the summer learning about turkey behavior to step up his game at work. According to sources, including the Maryland DNR, turkeys' heads can change color according to their mood. 
"Whenever it was relaxed and not doing anything, his head would be red. If he was up and about, his head would turn blue. And when he was aggressive, the blue became strong, it was like a light blue," Papazois said. "What I mean by aggressive is, it probably wanted food ... It would start charging at me; it would stick its neck out. Sometimes it would run sideways." 
But when Papazois would turn to look at Penny, the turkey would stop, he said. "Only when my back was turned, it would advance on me." 
There was one incident where, as Penny was flapping his wings, his wing "grazed" Papazois's leg, he said, but the physical contact stopped there. Another time, Penny "made some kind of growling sound ... like a somber gobble." 
Still, Papazois said he was "disheartened" to hear of his fowl foe's passing. 
"I know how much that turkey meant to the community. It was obviously a nuisance but that's what gave it character, and the whole atmosphere of that intersection character," he said. "It had to come eventually, but I didn't think it would go this way." 
Penny had become a local mascot with a lasting impression on the community, residents say. 
Nancy Webb, longtime manager of Hallmark Dry Cleaners, said she regularly had visitors at the cleaners just to see Penny, as well as customers who took her up on her Penny-themed specials.
"Penny actually helped some struggling businesses, whether he knows it or not," she said.
When Kevan Tran reopened his restaurant Penn Lake Roast Beef after recovering from a shooting, Penny was one of the first ones to arrive. 
Gryopolis features a sign reading "Penn E. Turkey approved" and had been hosting a children's Penny-themed coloring contest, which it has now named a "tribute." It received over 30 entries. 
"He just came at a really neat time, with the pandemic and everything," Stephanie Contolatis said. "I think we had a greater appreciation for a little life, a little extra entertainment ... Animals don't live forever, so at least we appreciated Penny while Penny as here."