Gallery: Hygge-inspired condo in Minneapolis' North Loop has views of Target Field
The owners completely redid the space to make it brighter and airy, inspired by their trip to Iceland.
A top-floor, corner condo in a former North Loop warehouse offers expansive views of Minneapolis and Target Field with a Nordic feel. 
Adam Grahek and his wife Christina bought the condo two years ago and renovated it themselves, inspired by the trip they took to Iceland for their honeymoon. 
"We just fell in love with the coziness of hygge. During that trip, we started to dream about creating a home that was cozy, airy and comfortable," Adam Grahek told Bring Me The News. "Once we purchased the condo, we developed a vision to create a home inspired by Iceland. 
"The condo was dark and outdated when we purchased it, and we changed it to be bright and airy, reflecting that vision," he added. 
Here's a look inside: 
404 N Washington Ave., Minneapolis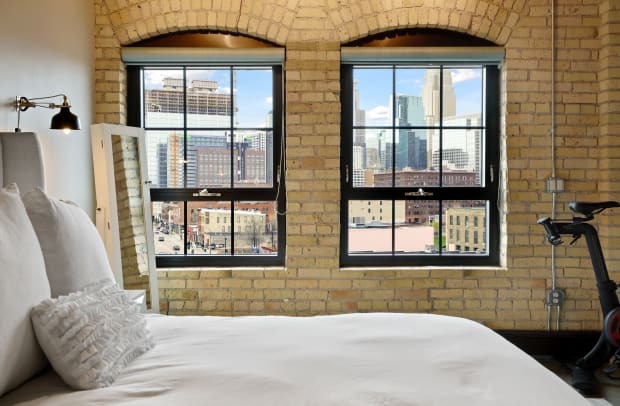 "Christina and I personally redesigned the entire interior with granite countertops, new stone tile kitchen backsplash, we painted the walls, removed laminate flooring to reveal beautiful exposed concrete floors and replaced lighting," Adam told BMTN. "We made a point of changing the interior from dark and outdated to bright and airy."
Adam's favorite feature of the home is the fireplace. He found a local steel company to wrap it in hot-rolled steel. Adam, being from Mountain Iron on the Iron Range, ensured American steel was used, saying "I come from three generations of iron miners and the importance of American steel runs deep in me."
The warehouse-style condo with high ceilings, an open concept, exposed brick and wood beams is also the perfect spot for a Minnesota Twins fan — the condo has views of Target Field and is an easy walk to popular bars and restaurants. 
Among the other amenities in the building are two exercise facilities, community rooms, and a rooftop patio with grills. 
Unfortunately due to the nature of the market right now, by the time we got everything together for this feature, there was already a pending sale on the home, which was listed at $489,999. Ben Ganje of Lakes Southeby's has the listing.