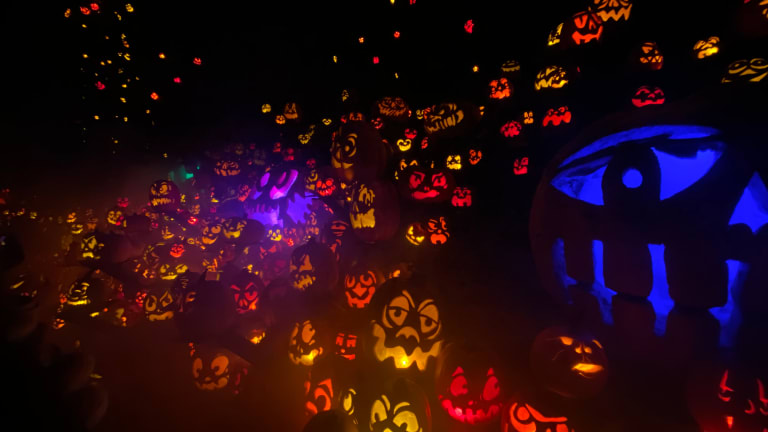 Jack-O-Lantern Spectacular returns to Minnesota Zoo this fall
The event will feature 5,000 carved and illuminated pumpkins.
The Jack-O-Lantern Spectacular will be back at the Minnesota Zoo this fall. 
Thousands of carved pumpkins will light up a trail at the Apple Valley zoo nightly from Oct. 1 through Nov. 7. 
This is the third year of the Jack-O-Lantern Spectacular after taking a year off in 2020 due to the COVID-19 pandemic. 
This year's event will feature about 5,000 pumpkins and a new theme — "ABC— and new designs, including a "rotating selection of expertly carved" pumpkins, including some that took more than 30 hours to create. The pumpkins will be carved in the likeness of animals, people and places from around the world representing each letter of the alphabet. They'll be on display from the ground up into the trees to create a "magical" experience, the zoo said.
Tickets to the event are required and go on sale at 8 a.m. on Wednesday, Sept. 8. You can buy them online on the zoo's website. 
Tickets are available at 7 p.m., 8 p.m. and 9 p.m. Sundays through Thursdays, while a 10 p.m. slot has been added on Fridays and Saturdays, as well as throughout MEA weekend. 
Ticket prices vary by date and time, but range from about $20-24 for adults and $18-20 for kids 3-12 and seniors (kids under 2 are free). Weeknights appear to be cheaper than weekends, and the 9 p.m. and 10 p.m. ticket times are $2 off. Zoo members also get a discount. 
About 1,000 tickets are available for each timeslot. However, the Zoo is limiting capacity at the event on Monday nights and reserving those nights for people with mobility challenges and sensory needs. 
Masks are required indoors for everyone age 3 and older at the Minnesota Zoo but are only encouraged when walking along the zoo's outdoor trails.
The Zoo says the Jack-O-Lantern Spectacular trail is about a 10-minute walk from the zoo entrance and it takes about 40-50 minutes to walk through the pumpkin display, which is about a quarter-mile long. 
The Zoo closes at 4 p.m. each day, so only animals in Discovery Bay will be visible — and only until 8 p.m. The Zoo recommends arriving for the pumpkin event no more than 30 minutes prior (food and beverage will be available for purchase).