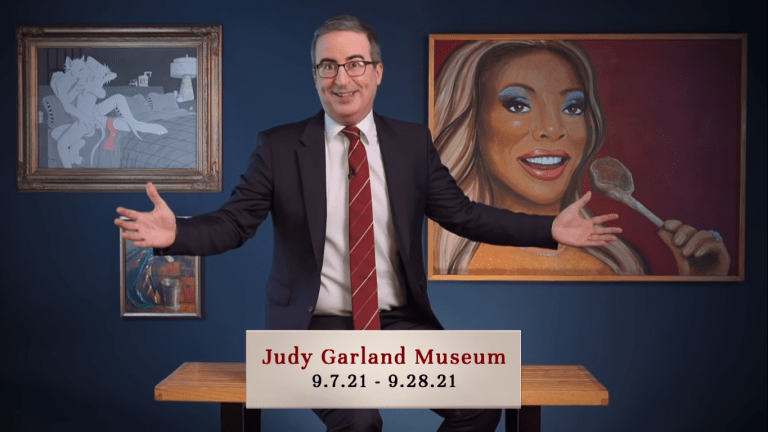 John Oliver awards Grand Rapids' Judy Garland Museum $10,000 prize, traveling exhibition
One of the pieces was "altered to be family appropriate" so it could be displayed.
TV host John Oliver placed a ruby red spotlight on Grand Rapids, Minnesota, recently when he announced the city's Judy Garland Museum would get $10,000 — and kick off a special, traveling exhibition.
More than 1,000 museums across the country applied for the substantial grant, which was announced by Oliver on his show, Last Week Tonight, in October of 2020. The goal was to provide some financial support to museums that were struggling amid the COVID-19 pandemic.
On. Aug. 26 this year, Oliver announced the five winners: The Judy Garland Museum in Grand Rapids, the Museum of Broadcast Communications in Chicago, the American Visionary Art Museum in Baltimore, the William V. Banks Broadcast Museum and Media Center in Detroit and the Cartoon Art Museum in San Francisco.
The Judy Garland Museum said it was "so excited" to be selected, and noted it is the only rural museum among the five winners. 
Each museum will receive a $10,000 grant, and the show will donate another $10,000 to a food bank located near each of the museums. In Minnesota, this will go to Second Harvest North Central Food Bank, which called the donation "an amazing gift."
In exchange, each museum has to host three "fine works of art" provided by the show as part of a traveling exhibition: 
A portrait of TV host Wendy Williams eating a lamb chop
A painting of some rolled-up ties on a trunk
And a couple of anthropomorphized rats getting a bit frisky
The latter has been "altered to be family appropriate" while at the Judy Garland Museum, it said on Facebook. (It appears some boxers or shorts have been added to the rats' previously bare bottoms.)
Grand Rapids will be the first art institution to host these pieces. They will be on display from Sept. 7-28 — "as, I'm just going to assume, Judy would have wanted," Oliver joked in the announcement video.