Kowalski's Market plans move into former Herberger's stores at Rosedale, Southdale
The Twin Cities grocery store chain is looking to expand.
Upmarket grocery store chain Kowalski's Market is planning something a little bit different for its next expansion: opening up in two Twin Cities malls.
The Woodbury-based retailer revealed this week it has signed a lease to become one of the new additions as part of Rosedale Center's $200 million expansion.
The Roseville mall is constructing a major mixed-use extension to the south of its existing mall, though the 30,000 square foot of space earmarked for Kowalski's formerly home to Herberger's before the retailer went under in 2018.
Twin Cities Business Magazine reports that construction is expected to start next year with a view to the store opening in 2022.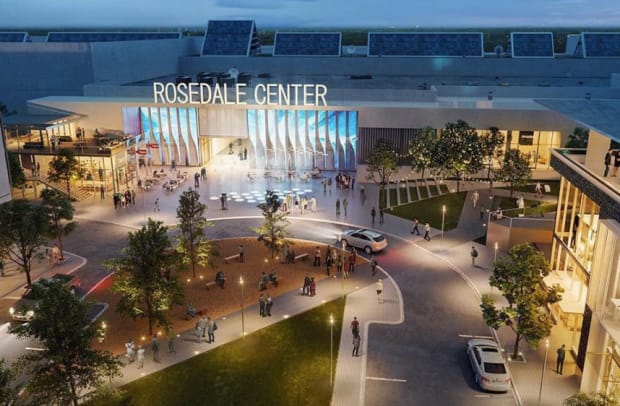 It's not the only mall the retailer is eyeing either, with the Star Tribune reporting this week it's also in talks to move into the former Herberger's space at Southdale Center in Edina as well.
The existing store would be demolished to make way for the Kowalski's, along with 300 apartment units and the new location for Edina library, the newspaper notes.
It comes amid a wider effort by malls to provide shoppers with more options amid dwindling foot traffic to traditional bricks-and-mortar stores.
Rosedale, Southdale and another major inner Twin Cities mall, the Mall of America, have been investing heavily in providing more food and entertainment options to complement its retail offering.
Southdale recently opened up a massive new Life Time Fitness center in the former JC Penney store, adjacent to where the Kowalski's Market is proposed, and has also added on the corners of its plot a flagship Restoration Hardware showroom, a Shake Shack, and a hotel.
Rosedale Center's expansion is following a similar mixed-use pattern, with the mall also making investments in recent years including the opening of a new food hall.
Meanwhile, the owners of the Mall of America has recently completed a significant expansion to the north that includes a 14-story JW Marriott hotel, and is attempting to build a giant waterpark near to Ikea.
Looking for property help? Check out our "Find a Realtor" directory