Live Nation offers sneak peek of new Minneapolis concert hall, starts feud with First Avenue
The Fillmore Minneapolis will open in February.
Live Nation offered the media a behind-the-scenes look at its new concert hall under construction opposite Target Field, and took a shot at First Avenue in the process.
The company provided a construction update and new renderings of the Fillmore Minneapolis, its new 1,850-capacity music space that will open at 521 N. 5th St. in February next year.
Live Nation is promising the venue, named after the historic Fillmore in San Francisco, will become "one of America's most beautiful music halls," with president Ron Bension promising a "redefined concert experience for the Twin Cities."
But during the course of a tour on Thursday, the Star Tribune reports Bension also said: "It's not just a black box with people in it," an apparent shot at Minneapolis' famous First Avenue.
This elicited a response from First Avenue, which posted on social media that it's "*Just* your independently owned 'black box with people in it' since 1970," a shot at the Fillmore being owned by a Fortune 500 company.
Nonetheless, Live Nation has ambitious plans for the Fillmore, looking to book up-and-coming music stars as well as music legends looking for a more intimate gig experience.
It gives Live Nation an expanded foothold in the Twin Cities, where it was also made the operator of the Varsity Theater last year, and has previously booked shows at Target Field, U.S. Bank Stadium, the Xcel, Target Center, and The Armory, not to mention being the booker for the 2019 Basilica Block Party.
The music schedule for the Fillmore will be announced in October, with the venue expected to host 175 concerts and events each year.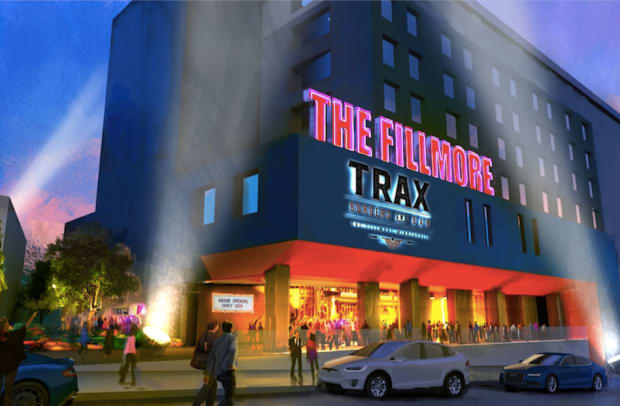 The 36,000-square-foot space comprises the music hall, VIP lounge and private box seats, while the mezzanine level is home to a "luxurious" bar called BG's Lounge, named for former Fillmore promoter Bill Graham.
"At every Fillmore we welcome our guests to make a night of it, not just with our incredible lineup of world-class performers, but also with delicious food, inventive cocktails and craft beers," Bension said in a press release.
The venue will be decorated with red velvet drapes, a wooden dance floor, chandeliers, and posters featuring Minnesota artists and bands that have played other Fillmore venues, of which there are now 8 others nationwide.
The venue is being built as part of a larger development by United Properties, owned by the Pohlad Companies, that will also include an Element by Westin Hotel and Trax Burgers and Bar, which will open in early 2020 and mid-February respectively.