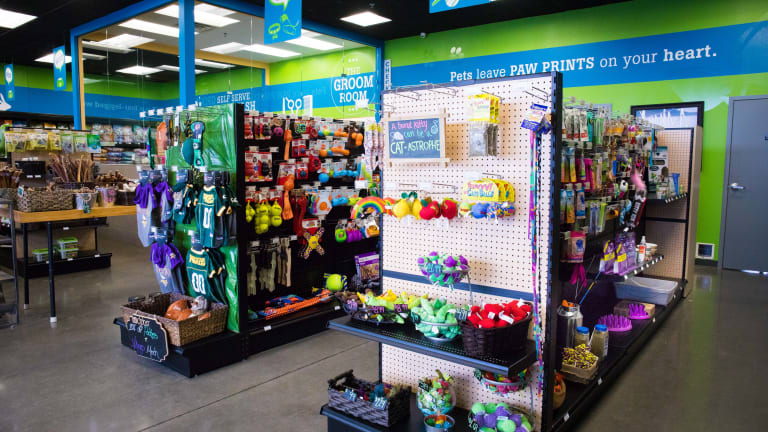 Locally-owned Pet Evolution expands its charitable mission
As the Twin Cities company expands, so does its philanthropic endeavors.
Rian Thiele and Mike Osborn want to help.
The duo launched Pet Evolution in Woodbury in 2012, expanding to Arden Hills in 2018, with the aim of improving the lives of pets and offering top-notch assistance to owners thanks to their knowledgable and caring staff.
Their two locations sell a range of carefully selected pet food, provide a variety of holistic health options including a self-serve dog wash and full-service grooming, and even host doggy play dates and adoption events 
These thriving stores "help pets live the good life," Thiele says, but as their business grew, the two friends find themselves itching to help local residents live the good life too.
In a business world where profit is king, Pet Evolution has instead prioritized giving back over the bottom line.
"We take pride in our local community and strive to make it a better place for all," Thiele says.
Over the past year, Pet Evolution has expanded its charitable mission by donating several thousand dollars to local animal shelters, youth sponsored events, and other nonprofit activities.
It has hosted several fundraising drives at its stores, taking donations for the likes of The Pinky Swear Foundation, American Red Cross, Coco's Heart and more.
Its most recent charitable endeavor saw it partner with the Woodbury Fire Department on Sunday, Apr. 7, for the city's first ever "Fill The Boot" drive.
Firefighters stationed outside the Woodbury Pet Evolution encouraged visitors to fill a boot with donations, and helped raise more than $5,000 for the Muscular Dystrophy Association.
So whether you're looking for the best of help for your beloved pet, or looking to make a difference in your neighborhood, drop in on Pet Evolution in Woodbury or Arden Hills –  they'd love to have you!