Long-awaited riverfront destination Water Works opens in Minneapolis
The new space is part of downtown Minneapolis' Mill Ruins Park.
After a half-decade of planning and construction, outdoor elements of the new Water Works project in downtown Minneapolis' Mill Ruins Park are now open to visitors.
The project, which was the subject of early discussions more than five years ago, is a re-envisioning of the 3-acre waterfront are in Mill Ruins Park, overlooking St. Anthony Falls and the Stone Arch Bridge.
The goal in the design was to acknowledge the space "as both a spiritual place that has shaped cultural and economic connections for Indigenous people and immigrants, and as the birthplace of Minneapolis' milling history," the Minneapolis Park and Recreation Board (MPRB) and Minneapolis Parks Foundation said in a news release.
Check out the photo gallery from Thursday's opening, with more information below:
Water Works opening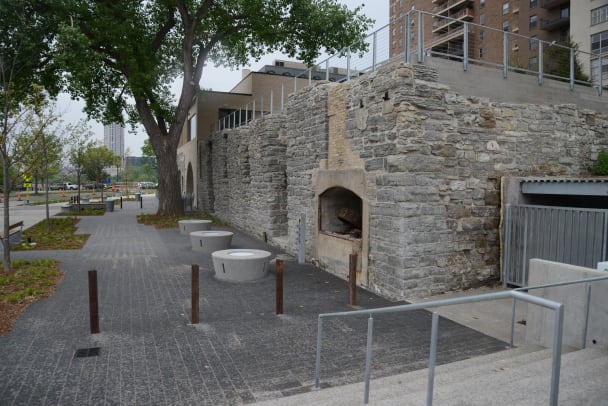 The outdoor park area has numerous features (and some expected corporate sponsorship), including:
A Mezzanine Lawn, offering an area to relax or play that overlooks the riverfront
Native plants, with signs coming later this year that will contain information in both the Dakhóta and English language
Remnants of stone walls dating back to the Occidental and Columbia mills, uncovered as part of construction
A Nature Play Lab geared toward younger children, near 3rd Avenue Bridge
The General Mills Plaza, with an 1,800-square-foot lower patio that features three gas fire pits, a large Cottonwood tree preserved during the work, and Indigenous art
The Bank of America City Steps, which is a "series of terraced green spaces with social seating"
An upper event area known as Columbia Terrace, with a lawn, seating space for restaurant-to-come Owámni (from The Sioux Chef), a public walkway and landscaping
A "woonerf" - a Dutch term meaning, essentially, "living street" - where vehicles, pedestrians and cyclists will coexist, meant to connect Water Works to downtown's Second Street