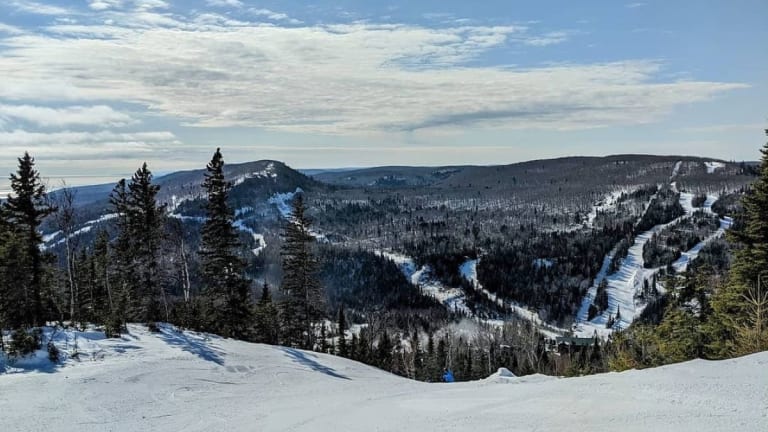 Lutsen Mountains' plan to expand into Superior National Forest open for public comment
The ski area is seeking a special use permit to nearly double the ski area using Forest Service land.
The Superior National Forest is seeking comment on Lutsen Mountains Ski Area's plan to use Forest Service land to nearly double its ski area. 
Lutsen Mountains for several years has been seeking to expand to ensure its long-term survival as a destination ski area. It currently occupies private land, but in order to grow the only available land is within the Superior National Forest. 
It applied for a special use permit from the Forest Service in 2016. And the yearslong permitting process took another step Friday when the Forest Service released a draft environmental impact statement (draft EIS) that analyzes and addresses the issues and potential effects of expanding the ski area onto 495 acres of Forest Service land. 
Lutsen Mountains' proposal would nearly double the skiable terrain at the ski area to include a variety of slopes for everyone from beginners to expert skiers, as well as add ski lifts and buildings with skier services at both Eagle Mountain and Moose Mountain. (More details below.)
With the publication of the draft EIS, there is a 45-day public comment period and a virtual public meeting on Oct 5. Then after that, the Forest Service will revise the draft EIS into a final EIS based on the public input. The final EIS will be issued with the Forest Service's decision about whether or not to grant the special use permit. 
Implementation of any or all of the approved projects could potentially begin as early as next summer, the draft EIS says. 
Proposed expansion details
Lutsen Mountains is seeking to expand its ski area on both Moose Mountain and Eagle Mountain. Among the items in the proposal: 
Develop 174.5 acres of additional ski terrain (143.1 acres on Moose Mountain and 31.4 acres on Eagle Mountain), which would bring Lutsen Mountains' developed ski terrain from 187.3 acres to 361.8 acres. 
Add 149 acres of gladed terrain, increasing the available gladed terrain from 23.5 acres to 172.5 acres (this will be built between the proposed developed trails).
Build six new chairlifts and one surface lift.
Build two new base areas with food, seating, guest services and maintenance buildings; one at Eagle Mountain and one at Moose Mountain with 630 parking spaces each. 
A mountaintop chalet at Moose Mountain offering on-mountain food. 
Build 5 miles of permanent road access, as well as 1 mile of temporary access roads.
Install snowmaking coverage on all 175 acres of developed ski trails.
Realign a 1.7-mile portion of the Superior Hiking Trail/North Country National Scenic Trail on Moose Mountain.
Realign about 782 feet of snowmobile trail near the proposed Eagle Mountain base area. 
Doing this would increase the "comfortable carrying capacity" of Lutsen Mountains from 2,850 guests per day to 6,300 guests per day. Lutsen Mountains expects this would be a 20-year project, starting with expanding the Eagle Mountain area. 
Lutsen Mountains' proposal is listed as Alternative 2 in the draft EIS. The special use permit would authorize 495 acres on Forest Service lands (459 acres on the southwest side of Moose Mountain and 36 acres on the south side of Eagle Mountain, directly south of the ski area's existing Eagle Mountain terrain).
The draft EIS includes two other alternatives. They are: 
Alternative 1: No action — Lutsen Mountains' special use permit application wouldn't be approved and no lifts, trails or recreation facilities would be built on Forest Service land. 
Alternative 3: Similar to Alternative 2, but it would identify some of the concerns the Superior National Forest and the public identified earlier in the special use permit process. The special use permit would authorize 478 acres on Forest Service lands (442 acres on Moose Mountain and 36 acres on Eagle Mountain).
Some of those concerns detailed in the draft EIS include the proposed project's impact on climate change from construction and timber removal and from more people visiting the area once the project is complete. It also listed concerns related to Tribal access to resources reserved under treaty rights, including reducing mature maple stands, wild rice waters and hunting and fishing resources. 
You can read the 344-page draft EIS here. Instructions on how to submit written comments on the draft EIS are available here.