Minneapolis artist uses Harry Potter magic to transform son's nursery
The illustrator has painted a Hogsmeade mural on his newborn's bedroom wall.
One Minneapolis boy will be lucky enough to grow up in a bedroom that is pure magic.
The tot, Ulysses, has his father Kevin Cannon to thank for his fantastical bedroom, which features a wall-sized mural inspired by Harry Potter.
Cannon – a professional cartoonist and illustrator, not to mention a huge Harry Potter fan – put his artistic talents to a more personal use as he created the huge wall drawing of the village of Hogsmeade.
It features the steep-roof buildings that line the main street of Hogsmeade, while the looming specter of Hogwarts School of Witchcraft and Wizardry can be seen in the background.
He sketched his doodles onto paper before painstakingly transferring them to his son's bedroom wall.
There's a cartoon depiction of Ulysses and the family cat, not to mention an unusually-shaped lamppost that's a hark back to the Minnesota Landscape Arboretum, where Kevin and wife Maggie got married.
Check out some of the before and after photos below.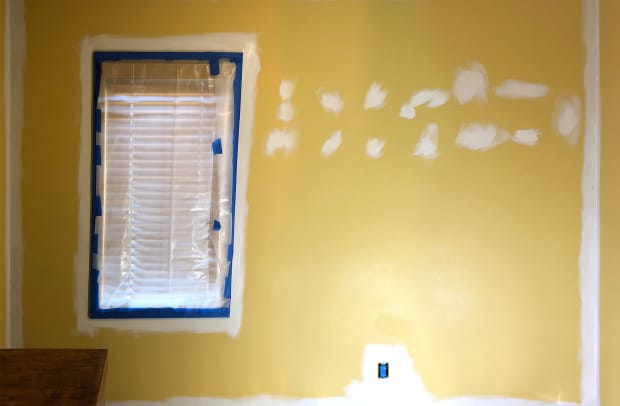 It's not the first time Cannon has used his illustration talents for something Potter-related.
About five years ago he illustrated – and Maggie created some mazes for – a book called "Harry Potter and the Art of Spying," which looks into some of the spying techniques that exist in J.K. Rowling's universe.
Speaking to Twin Cities Geek last month, Cannon said that he started his labor of love in September, and reveled in the opportunity to work on a larger scale.
"As a cartoonist I usually work on a very small canvas, so I jumped at the idea of painting a mural in the nursery," he said. 
"I really love the architecture in Hogsmeade, especially the steep, snowy rooftops and haphazardly angled chimneys, and I kind of fell in love with the idea that our kid would look out of their crib and live amongst those rooftops."
Kevin Cannon's work can be seen dotted around the Twin Cities and in various publications. You can find more of his work here.