Minnesota Nice Homes: Your chance to own this once-in-a-lifetime log palace
This stunning log home is coming to the market soon.
Many a Minnesotan dreams of owning a cabin in the woods, but they probably don't dream of one this large.
The log palace at 18101 Lexington Avenue Northeast in Columbus has everything you can possibly want from a Minnesota abode.
Built from Minnesotan hand-hewn logs? Check. Heartwood pine flooring harvested from logs sunken in Lake Superior? Check. Custom antler chandeliers? Check. A wooly mammoth replica tusk overhanging the bathtub? Erm...check.
What's more, it's within easy reach of the Twin Cities and has an abundance of stunning wildlife right on its doorstep.
Set on 80 acres of land, the log home is adjacent to the 600-acre Carlos Avery State Wildlife Management Area, a non-trespassing wildlife sanctuary that is a haven for whitetail deer, waterfowl, and turkeys.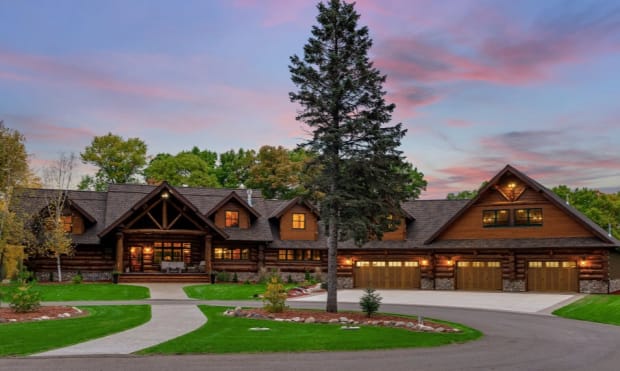 If you're looking for beauty closer to home, the lodge overlooks stunning private ponds and a sandy beach.
Its 8,155 square foot of floorspace comprises 5 bedrooms and 5 bathrooms, with the 2017-built lodge having space for no fewer than 6 vehicles.
Its expansive open floorplan offers oodles of space for family living and lavish entertaining, complete with cosy nooks, a wood bar, a stone fireplace and a gourmet kitchen.
Kris Lindahl Real Estate, which is listing the property, says it would make a perfect equestrian facility. It's on the market for $1.6 million.
You can find out more information by contacting co-listing Jena Tack, of Kris Lindahl Real Estate at 763-245-6612, or by emailing JT@KrisLindahl.com.