Minnesota Nice Homes: A red-brick mansion steeped in history on St. Paul's Summit Avenue
It's on the market for $1.7 million.
Years of restoration has seen this mansion on St. Paul's most historic street brought into the modern world, and now it's on the market.
The red-brick home at 266 Summit Avenue dates back to 1884, when the plot that was home to a much smaller property was bought by Frederick Driscoll, then owner of the Pioneer Press.
Per Saint Paul Historical, Driscoll demolished the smaller home and commissioned his then $25,000 mansion that still stands today, designed by William Willcox in the Queen Anne style.
The website notes it's an example of the "High Victorian architecture of the time, with its signature bays, dormers, and three-story tower."
An addition was later added by another celebrated architect, St. Paul Cathedral designer Emmanuel Masqueray, at the turn of the century.
Fast-forward to today and it's undergone a major restoration project courtesy of current owners, Susan and Tom Handley, who have brought the property into the 21st Century.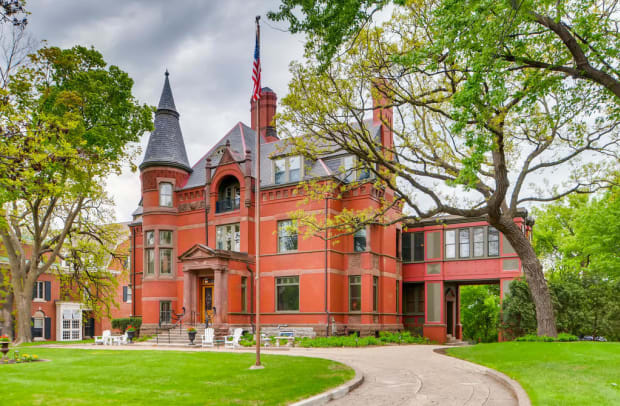 Listing agent Mary Hardy, of Edina Realty, says this investment includes a new, expanded chef's kitchen, the addition of a luxury bathroom and sauna in the master suite, and less flashy but arguably more vital upgrades to its insulation and electrics.
On the market for $1.7 million, it sprawls across 10,780 square feet comprising 6 bedrooms each with their own ensuite bathroom.
The living and dining areas offering an abundance of entertaining space, while the lower levels are home to a billiard room, media room including home theatre, a wine cellar.
Mary Hardy of Edina Realty has the listing for 266 Summit Avenue. She can be contacted at maryhardy@edinarealty.com or by calling 612-751-0729.