Minnesota Nice Homes: This Twin Cities home with a pool costs under $300K
And it's only 20 minutes from downtown Minneapolis.
While there's something addictive about vicariously looking through pictures of for-sale mansions, not every gem on the market costs seven figures.
Check out this listing from Keller Williams Realty for an 1,800 square foot house at 5749 Orchard Ave. N. Crystal, the defining feature of which is the pool in its backyard.
It's not often you'll find a house with a pool in the Twin Cities for anything under $500,000, much less than the $269,900 John and Karen Bramwell are asking for their home – which is just a 20 minute drive from downtown Minneapolis, 
And the story behind their 1950 home is just as attractive as the house itself, with the Bramwells telling Bring Me The News that they added the pool to offer a lakeside cabin vibe in the urban home they bought in 1971.
Related: Sign up for our daily newsletters.
"Thirty-five years ago we had the option to buy my parents' cabin on a lake," Karen said. "This sounded great except that our kids were involved in summer sports. So, instead we fenced our yard and put in an in-ground pool, deck, and sunporch."
"Great decision," she added. "We didn't have to fight traffic every weekend, we just went out into the back yard for swimming, volleyball, horseshoes, badminton, and whatever else we wanted to do.
"We did all of our entertaining in our beautiful backyard and created wonderful memories."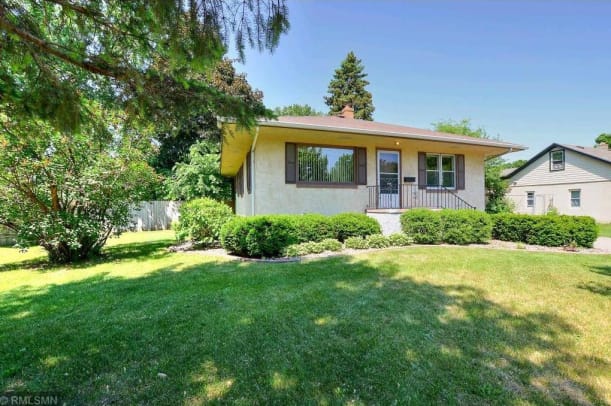 Now the house is ready for a new family to make some memories, with the Bramwells moving on now their grandchildren are growing up, and plan travel.
The have done plenty of updating inside to keep the house modern, with new kitchen countertops and stainless appliances the most recent additions.
Other featured properties

– Own a cabin and island in Shakopee for $649,000.

– Minnesota 'Tiny House' featured on TV show for sale on Craigslist.
As the pictures below show though, it still retains elements of its mid-century modern aesthetic.
The listing agent for the 3 bed, 2 bath home is Becky Turner of Keller Williams, who can be contacted at 612-685-4990.
Minnesota Nice Homes is a new feature by the Bring Me The News team, sharing cool and unusual homes on the market in Minnesota. You can find our other featured properties here.