Minnesota Nice Homes: After modern makeover, 'Hogwarts House' is back on the market
The home has a listing price of $2.7 million.
Located just a stone's throw from U.S. Bank Stadium, this Minneapolis residence was once the sort of home you'd find in Hogsmeade or Middle Earth.
The home at 247 10th Street South has undergone somewhat of a modern makeover that mutes some of its more fantastical elements.
As the pictures below show, the facelift in the 4,500-square-foot space is most obvious in the brightly painted walls now found throughout the property.
It had been put on the market in its steampunk previous form by its owner, the restaurateur and musician Jeff Arundel, for $3 million in 2018.
But having not sold, it's on the market again for a cut-price $2.7 million, now giving off vibes of what listing Jeffrey Dewing, of Coldwell Banker Burnet, calls a "loft-style retreat."
"The home has been modified into a true modern residence to compete with penthouse living in downtown Minneapolis!" he told BMTN.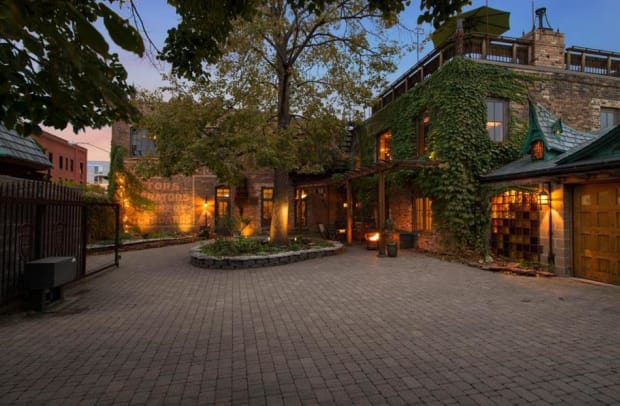 It remains one of the most distinctive homes in the Twin Cities, with the incredible stone fireplace in the open-plan living area still the focal point and the wooden kitchen that's straight out of Hobbiton.
The home, built in 1911, also retains the Middle Earth motif with the ornate carvings and stained glass that bedecks the staircase.
For your money, you get 4 bedrooms, 2.5 bathrooms, outdoor patio, and rooftop terrace spaces overlooking U.S. Bank Stadium and Minneapolis' Downtown East.
You can take a look at what the house previously looked like below, courtesy of Spacecrafting.