Minnesota Nice Homes: Celebrated architect designed this Kenwood home with a turret
The property near Lake of the Isles is on the market for $1.075M.
The work of Harry Wild Jones can still be seen across Minneapolis to this day, including at this home in Kenwood.
The renowned architect is best known for his work on commercial and religious spaces, such as the Butler Square building downtown, the Calvary Baptist Church in Whittier, and the Lakewood Cemetery Chapel near Bde Maka Ska.
He is less known for the residential properties he designed over his career, of which only a handful remain.
The house at 2001 Kenwood Parkway is one of those, with its distinctive turret, curved porch and stained glass immediately drawing the attention of passersby.
Built in 1887, it's now on the market for $1.075 million, offering 4,236 square-feet of space in one of Minneapolis' most exclusive neighborhoods, just around the corner from Lake of the Isles.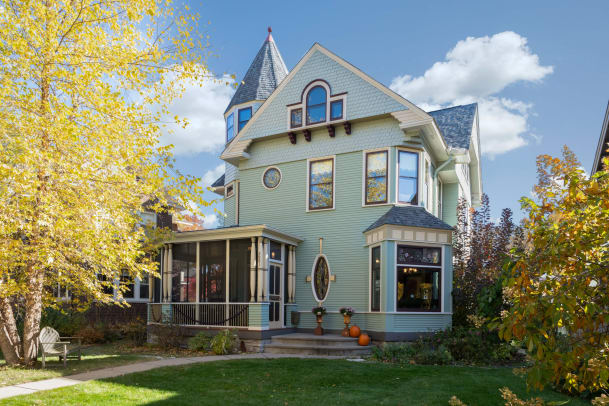 Outside, the home is a mixture of Gothic Revival and Queen Anne styles, while the interior is filled with pristine original features and woodwork, along with the modern touches that bring it into the 21st Century.
That's thanks to the previous owners of the house, who bought it in 1984 after it had suffered two decades of neglect.
They used old pictures of the home to restore it to its former glory, helping it transform into the million-dollar home it is today.
The Kim Pease Team has the listing. They can be contacted at 612-386-3046, or by email kpease@cbburnet.com.