Minnesota Nice Homes: Excelsior home with a Hollywood past won't break the bank
On the market for $549,000, its owners describe it as like a castle and a cabin.
The word "idyllic" springs to mind when you see this lakeside home in Excelsior.
While Excelsior conjures images of Lake Minnetonka, this 2,144 square-foot home at 20940 Ivy Lane is set on the more secluded, arguably more beautiful Lake William, on the other side of Minnetonka Boulevard from its much larger cousin.
Only a handful of homes surround Lake William and even fewer have their own private dock – this being one of them.
The panoramic view of the lake dominates attention thanks to the 24-foot wide Anderson windows that span the main living room, while on the west wall there is a pair of vintage stained glass windows from England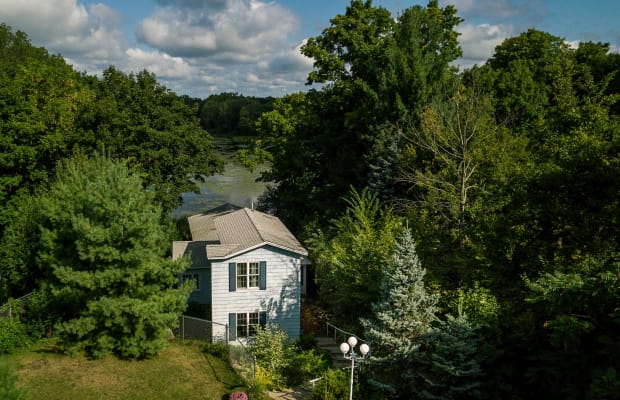 The current owners describe it as feeling like both a castle and a cabin, with the home coming with 30 feet of lakeshore out the back, as well as access to a 200-foot deep private well.
And the home has a Hollywood past too. In 1996, it featured in Miramax-produced movie "Beautiful Girls," starring Natalie Portman, Uma Thurman, Rosie O'Donnell, Matt Dillon and Timothy Hutton.
Get our Minnesota Nice Homes newsletter straight to your inbox
While originally built in 1920, the current owners have carried out a number of improvements during the 30 years they've lived there, expanding it to include an artist studio space, and adding the Anderson windows after the removal of the old deck.
Also inside the house are antique French doors, an authentic crystal chandelier and stunning vaulted ceilings
The house is now looking for a new owner, as the couple selling is looking for a place to live closer to the Twin Cities.
Aaron, Adrienne and Mindy Shears of Excelsior Real Estate have the listing. They can be contacted at 952-474-2999.