Minnesota Nice Homes: Restored Stillwater house is a historic treasure
It was the home of an early Stillwater entrepreneur.
The home at the corner of Pine and 5th Street in Stillwater goes by another name: The Austin Jenks house.
The iconic brick home, a combination of Tuscan Villa, French Second Empire and Gothic Revival architectural styles, dates back to 1871, when it was built for the family of early Stillwater entrepreneur, riverboat captain Austin Jenks.
Now occupying a prominent spot in the city's South Hill neighborhood and included in the National Register of Historic Places, the 4,182 square foot property is on the market for $725,000.
Listing agent Lou Sudheimer says the historic home has since been recently restored to "highlight its outstanding period details," including its brick facade, as well as "stunning Eastlake woodwork" and custom inlaid parquet floors on the inside.
Responsible for those repairs are owners Renata and Thomas Vaughan, the latter of whom was a Professor of Radiology at the University of Minnesota's Center for Magnetic Resonance Research.
Their family called the Austin Jenks House home for 17 years, during which time they carried out significant repairs and preservation improvements, restoring it and furnishing it "to its original 1871 period," Thomas Vaughan told BMTN.
They're only selling because they were both appointed to new positions at Columbia University, with Thomas promoted to become a Professor and Director of the Columbia MR Research Center, while Renata has been appointed to the Applied Physics and Math department, as well as with the Lamont Earth Observatory at Columbia.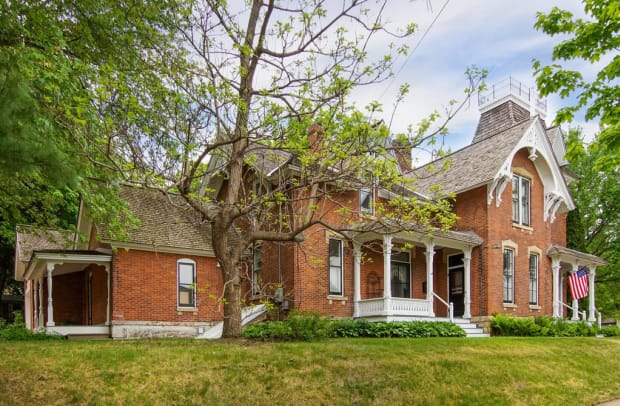 Comprising 5 bedrooms and 3.5 bathrooms, standout features of the property include its cantilevered spiral staircase and the intricate woodwork found throughout.
"This house would be perfect for a buyer who appreciates Professor Vaughan's skills and dedication in preserving the craftsmanship, charm and character of this very special home," Sudheimer said, calling it a mid-19th Century treasure.
Lou Sudheimer, of Historic Hill Homes, Inc. Realty, has the listing. He can be reached at 612-701-5352.