Minnesota Nice Homes: House on the St. Croix River has its own tram down to the shore
The unusual feature comes with this 5-bedroom property in River Falls.
While we're aware that the name of our weekly feature is "Minnesota Nice Homes," this property in Wisconsin is about as close to Minnesota as you can get.
And the reason we're featuring it is because of one highly unusual feature: a motorized tram that takes the owner from their garden down a wooded slope to the shoreline of the St. Croix River.
At the bottom, the property at W12701 735th Avenue, River Falls, has 294-feet of frontage onto the St. Croix along with a 40-foot dock, making it perfect for river-goers.
While the $899,000 property is currently under contract with realtor Jeanette Kunz, of Lakes Area Realty, it is still available for private showings.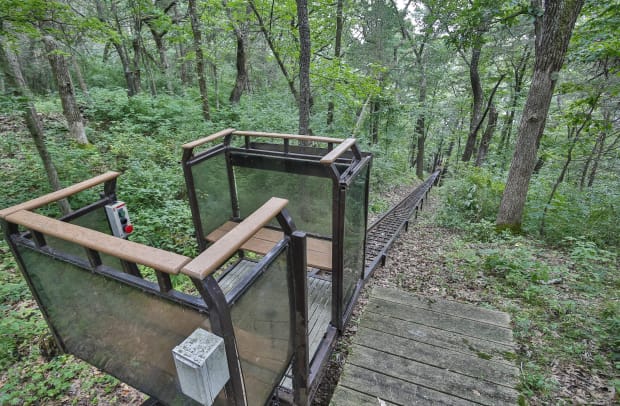 It's set upon 4.9 secluded acres, which Kunz describes as "oasis on the St. Croix."
The 2000-built home sprawls across 5,050 square feet, comprising 5 bedrooms and 2 main-level bathrooms.
The large kitchen offers bay window dining and views of the waterfall in the garden, while the living area included a two-sided stone fireplace.
Sign up for our weekly Minnesota Nice Homes newsletter to have the latest property sent straight to your inbox.
The lower walkout level meanwhile is ideal entertaining space, coming with a bar, a hot-tub room, wood-burning fireplace, and the 5th bedroom.
Jeanette Kunz has the listing, which as stated before is for private showing only. She can be contacted at 715-381-0098, or by emailing jeanette@lakesarearealty.com.