Minnesota Nice Homes: Lanesboro estate can be anything you want it to be
The 10,000 square foot home is on the market for $1.95 million.
The possibilities are seemingly endless with this huge timber property that's on the market near historic Lanesboro in southeastern Minnesota.
Located in the bluffs around the Root River, the former bed and breakfast wouldn't look out of place as a ski lodge given its cavernous lounge area.
The main question that faces those interested in buying it is what to do with it, as listing agent Trina Solano, of Edina Realty, explains.
"It could be purposed again as a Bed and Breakfast or a health and wellness center, nature center, or business retreat center; resort lodging, wedding venue, brewery/ winery and fine dining venue, or as a working organic farm or farm school, providing a peaceful, relaxing respite as well as a place for hands-on learning about raising healthful, organic food, including livestock."
Enough options there for ya?
Follow: Get the latest Bring Me The News stories on Flipboard.
The property first hit the market in May 2017 for a price of $2.925 million, before the price was dropped in March to $2.65 million.
The latest price drop earlier in June now has it listed at $1.95 million.
For that you get 10,000 square feet spread across four stories of custom-built timber frame, with 10 fully-furnished bedrooms, most of them en-suite, as well as 103 acres of organic farmland, woodland and bluffs.
It comes with two wrap-around porches, formal gardens and access to the Duschee Creek, a spring-fed trout stream that's a favorite among fly fishers.
Trina Solano is the listing agent, and she can be contacted at 507-261-4030.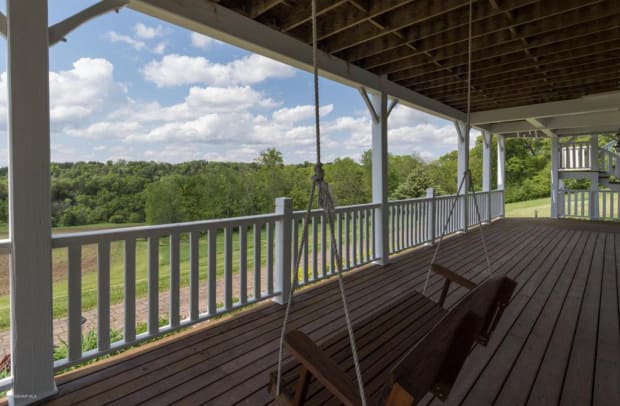 Minnesota Nice Homes is a new feature by the Bring Me The News team, sharing cool and unusual homes on the market in Minnesota. You can find our other featured properties here.