Minnesota Nice Homes: Magnificent lodge in Houston is every hunter's dream
The sprawling estate is on the market for a whopping $5.4 million.
If you're a Minnesotan hunter, this is your dream house. If you're not, this is your dream house.
At $5.4 million it comes with a hefty price tag, but you get a hell of a lot of bang for your buck.
How much are we talking? Well for starters there's the custom-built, 8,000 square foot lodge-style home that comes with six bedrooms, eight bathrooms, and two decks overlooking the savannah bluffs in southeast Minnesota.
It's set upon 990 acres of land that also includes a four-bedroom, three bath ranch-style rambler hidden in the woods, which can be used for hunting guests and family visitors.
Not enough for you? Well how about the giant, 80x40 outbuilding with two large garage doors that can be used as a bunk house and for vehicle storage (for your off-roaders and fishing boats) and comes with a walk-in cooler to hang up your hunting prizes.
And about that 990 acres land? Owner John Redmond has spent years completely transforming and cultivating the land, focusing on wildlife conservation to create a stunning habitat for deer and turkeys.
The rolling terrain is filled with native grasses, diverse wildflowers, thick cedar and oak trees, overgrown meadows and an old growth apple orchard that hide several food plots.
"This property boasts a tremendous population of wildlife," the listing says. "Just the right combination of cover and agricultural fields to hold game year-round."
If you can't afford the $5.4 million asking price, the owner is willing to accept selling the lodge and other buildings along with 150 acres of land for $2.675 million.
United Country Real Estate has the listing. You can contact Curtis Weiers on 320-274-1341 or Carrie Newhouse on 612-701-7965.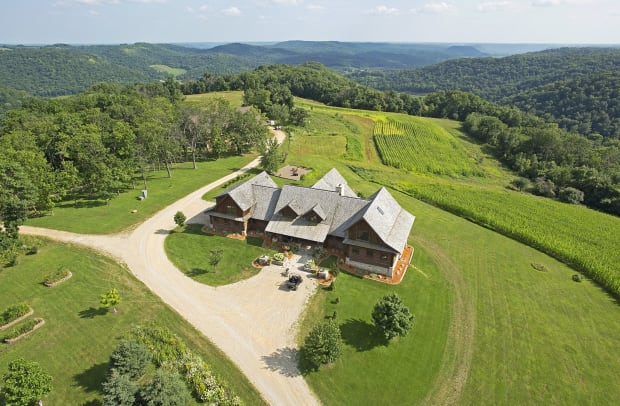 Minnesota Nice Homes is a new feature by the Bring Me The News team, sharing cool and unusual homes on the market in Minnesota. You can find our other featured properties here.