Minnesota Nice Homes: Owners take unusual step of auctioning Minneapolis mansion
You can bid on the Mount Curve property now.
The bidding is open now for this luxurious mansion on one of Minneapolis' most exclusive streets.
While a common practice in other states, it's relatively rare for luxury home owners in Minnesota to sell their property via auction.
But Carrie Newhouse, of United Country Pro Realty, explains that they offer an attractive option for sellers.
"They like the idea of a shortened marketing time, coupled with an extensive marketing campaign and the sense of urgency auctions create," she said.
Urgency is the word, as bidding for the home at 1606 Mount Curve Avenue will end at the stroke of 7 p.m. on Monday, June 10.
So how much would you pay for this house? The owners have set a reserve price, but it's being kept a secret – a clever move in the event that someone bids above the reserve.
Situated in the leafy and desirable Lowry Hill neighborhood, the mansion is in an enviable location close, but not too close, to downtown Minneapolis and vibrant Uptown.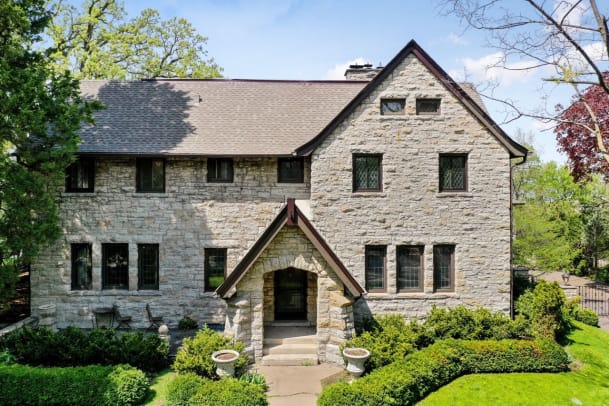 The main house, built in 1906, comprises 5,857 square feet of ornate woodwork, stained-glass windows, stunning fireplaces and spacious quarters.
Each of its 5 bedrooms boast ample space, while its two master suites have a fireplace and a walk-in dressing room respectively.
If you want truly unusual, the attached two-car garage had a genuine car wash installed in the '80s, the mechanics of which are still there despite being disconnected.
Not enough room for you? Well there's also an extensive backyard with views over the Minneapolis skyline.
Oh, and then there's the three-level carriage house, which provides parking for four-plus vehicles, and also contains a 1,344-square foot two-bedroom, one bath apartment with its own wood-burning stove.
The bathroom and kitchen in the carriage house still need a bit of work, as does the stone-walled basement level, which United Country suggests could be a "unique man cave, theater room or wine cellar with your imagination and some work!"

You can find more details about the home, and the links where you can bid, right here.