Minnesota Nice Homes: Quirky farmhouse has unrivaled views of the Mississippi
Buy for the house, stay for the views.
This quirky farmhouse very much meets the definition of a "Minnesota Nice Home," but it's the view that really makes it stand out.
The historic brick farmhouse in Pepin Township, near Wabasha, was built in 1870 and sits on 36 acres of landscape and gardens, groomed trails, an orchard, a pine forest and prairie.
It's a microcosm of Minnesota on a single piece of land, all it needs is a lake.
There's one not far away, because this $895,000 property comes with stunning panoramic views of the Mississippi River valley, at its confluence with the Chippewa River and Lake Pepin.
The farmhouse is set on a bluff above the valley near Reads Landing, and from its dining room and garden you can observe a spectacular 30-mile view of the valley.
The farmhouse itself meanwhile comprises 1,900 square feet of fully renovated living space, complete with two bedrooms, a full-size and two partial bathrooms.
Next up: See more Minnesota Nice Homes.
You also get some outbuildings and the foundation of a historic stone barn for your money, as well as an open deck, manicured gardens and a long, gravel driveway.
Its three owners, Perry Jueneman and David and Marcia Meyer, bought the property together in 2004 to stop it from being developed, and have been running it as a B&B, though don't live on the property.
They're selling up to move on to a new venture.
Listing agent Todd Shipman says it'd be best used as a primary residence or a weekend retreat, though says it would also make an ideal wedding venue if someone wanted to build out the site. 
Shipman, of Lake Sotheby's International Realty, can be contacted at 952-230-3117 or by emailing todd.shipman@lakesmn.com.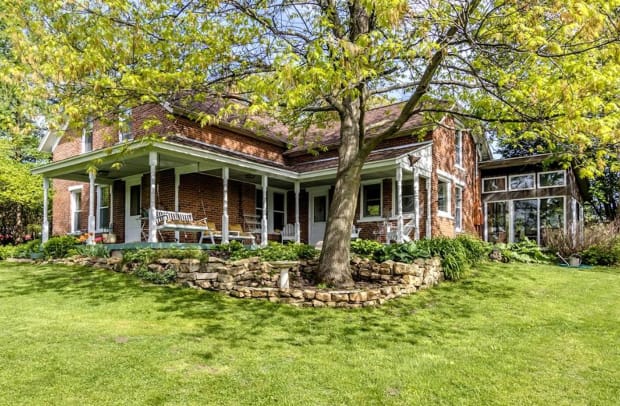 Minnesota Nice Homes is a new feature by the Bring Me The News team, sharing cool and unusual homes on the market in Minnesota. You can find our other featured properties here.