Minnesota Nice Homes: Renowned builder is selling his North Shore dream house
Just down the road from the Canadian border, this estate is on the market for $1.45M.
Clarence Kemp is a well-known name along the North Shore for the countless houses he's built in Minnesota's northeastern edge – now he's selling the one he built for him.
A renowned builder of premiere, Lake Superior homes, the now-retired Clarence and his wife Nancy are planning to downsize.
As a result, they've placed the stunning house he built for them prior to retirement on the market for $1.45 million.
Set on dramatic bluffs overlooking Lake Superior in Hovland, Minnesota, the estate comes with 479 feet of shoreline and 3 acres of woodland.
The 2004-built main home meanwhile comprises three bedrooms set across 4,877 square feet of space.
Kemp's custom-built home is all about the lakeside view, with expansive windows dominating its "great room," making the most of the natural light that hits the cedar-sided home every morning.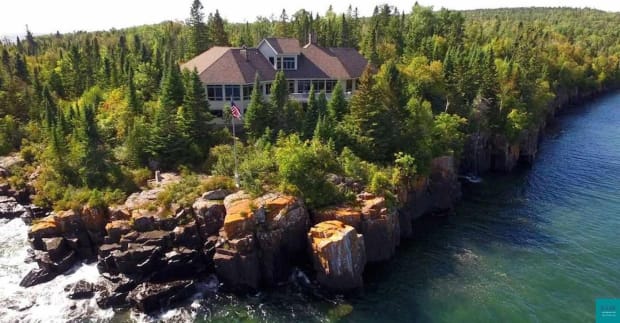 Eyes are also drawn to the room's soapstone fireplace, as well as the doors that open out onto a capacious, 80-foot long deck.
And while it appears isolated, amenities aren't too far away. It's an 18-mile drive into Grand Marais, four miles to Devil's Kettle Falls, 15 to the Isle Royale Ferry and just 22 miles to the Canadian border.
Lisa Janisch, of Janisch Realty, is the listing agent. She can be contacted at 218-780-6644 or by emailing info@lisajanisch.com.