Minnesota Nice Homes: Spectacular Summit Avenue house is steeped in history
It just hit the market for $949,900.
St. Paul's Summit Avenue is home to a smorgasbord of historic homes, and No. 1865 is no exception.
It hit the market this week with a listing price of $949,000, for which you get 4,200 square feet of space on arguably Minnesota's most exclusive street.
Packed with mahogany woodwork and beamed ceilings, the 1922-built home has 4 roomy bedrooms, 2 full bathrooms, a stunning kitchen and bags of space for entertaining.
But arguably the standout room is an adorable, original school room in the basement with a chalkboard covering almost an entire wall.
It's otherwise known as the Jens Pedersen House, named after the celebrated Norwegian transplant to St. Paul who built a number of properties in the Minnesota capital.
He himself oversaw the building of 1865 – which, by the way, was the year he was born – fashioning some of the woodwork from a mahogany log he had sent from Honduras, which was shipped to San Francisco before being taken by train to St. Paul.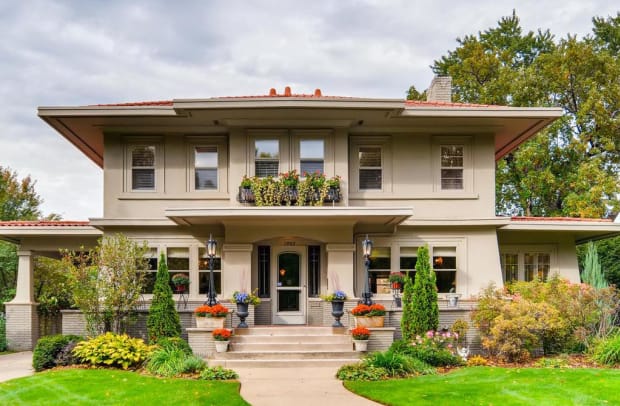 The exterior design was ultramodern for its time, employing the wide eaves for which Frank Lloyd Wright would later become known. These eaves help maximize the home's sunlight in the winter, while sheltering it in the summer.
The basement – including the school room – was steel reinforced to provide a place of safety for Pedersen's daughter, Sofia, who had a fear of tornadoes.
The property later passed on to Pedersen's son, Arthur, who was the president of the Minnesota Surgical Society and hosted in the house, among others, the inventor of Penicillin, Sir. Alexander Fleming, as well as the Mayo brothers.
Mary Hardy of Edina Realty is the listing agent, she can be contacted at 612-751-0729 or by email maryhardy@edinarealty.com.